Readers who are regulars at Effect Measure or Deltoid will be familiar with the opinions of attorney and author Michael Fumento. Fumento considers himself an avian flu "skeptic," and recently issued a "challenge" (the title, "My avian flu challenge to the leftist bird-brained squawkers", might give you some clue as to its scientific value) to bloggers, in response to one blogger's comment that "... there was a "50%/50%" chance of [an influenza] pandemic in the next year":
I took advantage of Mr. Paramedic's oversight to bet him 10-1, with him picking the dollar amount, that there would be no such pandemic in the next 365 days. Odds of 2-1 would be even, so this is an offer you'd think he'd snap up. So far no reply. Now I'm extending the challenge to all bloggers who've ignored my flawless track record on disease scares dating back 20 years and who have said in no uncertain terms that I've been grossly irresponsible and a total idiot on the subject of pandemic flu.

...Okay guys, put your bucks where your blogs are! Ten to one odds for each of you; each gets to pick the amount in question. I say the year 2008 will roll around and there will be plenty of terrible problems in the world, but pandemic avian flu won't be among them.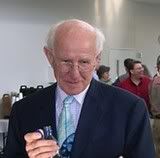 Revere, Mike, Tim, and Revere especially have already ripped much of Fumento's argument apart, so I'm not going to focus on that.* Rather, what people like Fumento do is almost a form of quote-mining. In Fumento's case, he takes the worst case scenario that influenza virologists and epidemiologists have noted--that is, a highly deadly pandemic occurring at any moment--and suggesting that's the consensus opinion, and that anyone who voices any concern about pandemic influenza is a "chicken little."
One target of this ire has been virologist Robert Webster of St. Jude's (photo to the left). He recently visited us here in Iowa, and his message was much more tempered than what's been reported in the media. More after the jump.
First, the title of Webster's talk asked whether H5N1 would acheive pandemic status. His answer, despite assertions by people like Fumento, is the same as the vast majority of those who've studied the virus: we just don't know. Indeed, he emphasized just how remarkably little we know in general about the pathogenesis and transmissibility of influenza viruses--and it's the latter that really will be key when it comes to a pandemic strain. He also cautioned that we really need to control interpandemic influenza as well, which is another common refrain. Because we just don't know where the next pandemic strain will come from, it's prudent to do whatever we can to reduce all types of influenza infections, not only exotic ones like H5N1.
Webster also reminded the audience (as I noted here) that, while H5N1 is the "bird flu" that's receiving the lion's share of media (and scientific!) attention right now, other serotypes of avian influenza have circulated recently, including H7N7 and H9N2. During the H7N7 outbreak in the Netherlands, 30 million chickens were destroyed, and there were over 300 human cases of conjunctivitis. There also was evidence of human to human spread, and one death from the outbreak. Additionally, there was serological evidence of H7N7 infection in pigs, which have long been a concern as a potential "mixing vessel" between avian and human-type influenza viruses. The take-home message: H5N1 ain't all that has the potential to become a nasty pandemic strain, and we need to keep our eyes peeled.
However, H5N1 is, of course, the interest of the moment, as it continues to re-appear in Europe, Asia, and Africa. Webster mentioned the live poultry markets, which he feels are a potential breeding ground for pandemic influenza viruses. To combat this, he said that Taiwan is actually planning to shut down their markets in 2008, and Hong Kong is buying back vendors' licenses. Similarly, he reported that China is not re-opening markets in Shanghai and Beijing. It will be interesting to see if this has any effect on disease outbreaks or viral spread.
The discussion moved from the topic of domestic birds, then, to the role of migratory birds in the maintenance and spread of the virus. As far as entry into the U.S., Webster thought that it would be more likely to enter via smuggling rather than carriage in wild birds. However, he also noted that the situation in wild birds is, well, scary. (My characterization, not his). In some experiments with H5N1, they've noted that, even if the virus is pathogenic initially for ducks, variants are quickly selected with lower pathogenicity. These variants are fairly stable in the environment, and can be shed by the ducks for an extended period of time. Additionally, they are still virulent in domestic fowl (including chickens) and in humans. Additionally, H5N1 is shed not only from the intestinal tract in ducks (where influenza viruses are typically carried in waterfowl), but also in the respiratory tract.
Therefore, the ecology of this virus potentially presents a perfect storm in some areas of the world. In Thailand and Vietnam, for example, they use domestic ducks to graze in rice paddies. These ducks are often transported into the country, which is itself a way to potentially introduce H5N1 into new areas. Webster also noted another cultural phenomenon related to ducks, which is the consumption of dishes containing duck blood (apparently, these are good for hangovers!), particularly in Laos and Vietnam. This has previously been identified as a risk factor for contraction of H5N1, but it's difficult to convince people to give up cultural practices.
What about the vaccine? Webster noted the ongoing ecologic experiment in Vietnam, where they vaccinated all poultry for H5N1. This reduced cases for awhile, but currently have experienced new cases in poultry, with worries about new human cases as well (thus far unconfirmed, to my knowledge). However, problems with the vaccination strategy they used in Vietnam were that 1) it wasn't standardized; much of it was "home brew" vaccination, where local areas or even farmers made their own, and 2) that the vaccines typically didn't work well in geese or ducks. Still, their limited success despite these drawbacks show that, if vaccination is done properly, it does have the potential to stem a pandemic.
Webster wrapped up detailing some experiments showing that recombination of H5N1 with the human H3N2 strain led to only limited replication and transmission in the ferret model of disease. However, different results may be obtained by using different strains, or mixing and matching different genes from the viruses. We just don't know what the "optimal" combination would be for a human pandemic, and all the permutations realistically can't be tested. At least so far, however, it seems that human-to-human transmission isn't easy for H5N1, but Webster said, "God help us if it does--we're going to have a mess." He noted many things that I've also highlighted previously; that, if a pandemic were to happen, hospitals would be pushed beyond surge capacity, the young could be hit hardest if the "cytokine storm" the current strains of virus produces would persist; and that we simply don't have the facilities or abilities to produce a lot of vaccine, quickly, in the event of a pandemic. But nevertheless, contrary to how he's been portrayed in the media as a "scaremonger," Webster simply urged against complacency, and noted that he himself has several months' of food and water stored for an emergency (though apparently, it took a bit to convince his wife to take him seriously!)
All in all, a very entertaining, practical, and prudent talk--for a "chicken little."
*The problem is, of course, that biology just doesn't work this way. It's not a lottery where one puts in a certain number of balls, which sit unchanged until someone draws. It's not even a game where all of the players can be largely defined by statistics and injuries. The probability of an influenza pandemic is affected not only by the accumulation of changes in circulating influenza viruses--it's also a property of changing human behaviors that can make a pandemic eiither more or less likely to occur.