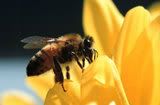 Something is wiping out honey bees across North America and a team of researchers is rushing to find out what it is.

What's being called Colony Collapse Disorder (CCD) has now been seen in Pennsylvania, North Carolina, Florida, Georgia and way out in California. Some bee keepers have lost up to 80 percent of their colonies to the mysterious disorder.
Now, I'm admittedly not much of a bee fan. Several of my relatives are highly allergic, and I've only been stung once and hope I'll be fine if it happens again, but they do kind of make me nervous when I see them buzzing around. And a bee die-off might not sound like a huge deal at first--I mean, we can go without honey, right?--but recall that many of these bees are also put to work pollinating crops, so a large-scale die-off isn't so mundane, especially when they're currently unsure about what's causing it, or how to stop it:
Among the possible culprits are a fungus, virus, or a variety of microbes and pesticides. No one knows just yet. On first inspection, the pattern of die-offs resembles something that has been seen in more isolated cases in Louisiana, Texas and Australia, vanEngelsdorp said.
It's interesting how they're tracking and investigating it, though. Of course they're examining the bees themselves for any clues to the illness, but they're also using Google Earth to compare any geographic similarities between the outbreak sites, and using "a groundbreaking audio analysis technique that allows them to hear specific changes in bee colony sounds when specific chemicals are present. Chemical air sampling in hives is also being planned."
We've seen how an invasive fungus is spreading and killing amphibians; it will be interesting to see if this is another example of the spread of an infectious agent, a toxic chemical, or another factor altogether as investigations continue and other colonies become active in the spring.
Image from http://www.pnas.org/misc/honeybees.jpg