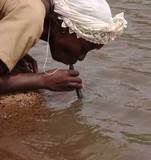 Scanning today's New York Times, I ran across this article on designing for the world's poor, which isn't really an issue I'd spent much time considering previously. From the article:
"A billion customers in the world," Dr. Paul Polak told a crowd of inventors recently, "are waiting for a $2 pair of eyeglasses, a $10 solar lantern and a $100 house."

The world's cleverest designers, said Dr. Polak, a former psychiatrist who now runs an organization helping poor farmers become entrepreneurs, cater to the globe's richest 10 percent, creating items like wine labels, couture and Maseratis.

"We need a revolution to reverse that silly ratio," he said.

Their creations, on display in the museum garden until Sept. 23, have a sort of forehead-thumping "Why didn't someone think of that before?" quality.
More details after the jump...
You can find out much more about the exhibit on the museum's webpage, where you can browse the inventions by country. Though typically inexpensive and simple in design, the inventions highlighted literally have the power to turn one's life around in the poorest of countries, making water easier to pump, store, and transport (and safer to drink), allowing inexpensive latrines; simple refrigeration; superior bed nets providing light when electricity doesn't reach an area; even providing laptops and internet access to places that perhaps have never seen a working computer previously, these economic designs are being honored for changing the world in "the other 90%".
Image from http://www.spirithouse.com.au/spiritblog/lifestraw_sm.jpg