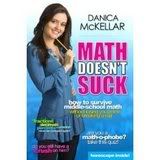 It's not a rosy picture for girls in math. As Barbie infamously framed it, girls should think that "math is hard." While Mattel (rightly) received a lot of flack for that comment, the sad fact is that Barbie was reflecting the attitude many girls tend to take toward mathematics education: it's difficult, it's boring, and who needs it anyway? Surveys have shown that, while girls and boys in elementary school show similar attitudes toward mathematics, by junior high girls tend to have a negative attitude toward math, along with lower confidence in their ability to handle math problems. Of course, this also has a negative effect on getting women to enter (or stay in) science and technology concentrations in college, as all require at least some courses in mathematics. Therefore, women choose to opt out of these--in many cases, due to attitudes that began to develop during those Barbie years.
However, the news is not all bad. Studies also show that interventions can be made by teachers and by parents to retain girls' interest in math. This can be done by encouraging and developing girls' abilities, and helping them to overcome stereotypes of girls as "bad at math," or that girls who are good at math are just "nerds" who will never get a date. Mathematician/author/actress Danica McKellar tackles the latter in her first book, Math Doesn't Suck: How to Survive Middle-School Math Without Losing Your Mind or Breaking a Nail. More after the jump...
For those of you who may remember McKellar as Winnie Cooper from The Wonder Years and wondering how she came to write a math book aimed at middle school girls, allow me to fill in a few gaps. Following the television show, McKellar attended UCLA, where she graduated summa cum laude with a major in mathematics (and published proof to boot). Since graduation, McKellar has maintained an interest in math and science education for girls, and has been active in promoting this.
The book is divided up into short chapters, each of them covering one idea (factoring, mixed numbers, decimals, etc.) and typically with an underlying theme: a clothes sale, or babysitting, or jewelry, for instance. My first impulse is to bristle a bit at this (and indeed, I asked Danica about it in an interview I'll have up tomorrow), but there are also chapters using more neutral examples--pizza or grocery shopping, for example. Despite my bristliness at some of her examples, the explanations of the math itself look pretty good to me (trying to put myself back in middle school math mode, which isn't easy). She gives an overview of a problem, and then shows how to solve it, step-by-step--sometimes in her own handwriting. This gives the book a bit more of a personal touch, making it less of a study guide or textbook and more like borrowing your smart friend's class notes. She also includes memory tricks, shortcuts, and alternate strategies to arrive at an answer, so different types of learners should be able to find a strategy that clicks with them.
In addition to the math, McKellar infuses the book with her own personal anecdotes--times when she found a math problem to be difficult or scary, and how she overcame the fear, or her own issues with people making assumptions about her intelligence based on her appearance (and what she did about it). She also includes other success stories of "fabulous" women who are successful in math, without sacrificing femininity along the way, and inspirational quotes from girls who've learned to love math. Again, these add to the book in the way that an ordinary study guide can't. She also includes an afterword with troubleshooting advice--what to do if you're having trouble beyond the actual math itself.
How does one (and especially someone with a high-level mathematics education) write a math book aimed at middle schoolers, and have it not "suck"? McKellar brought in the big guns for this one: her 12-year-old goddaughter, Tori--so I'll trust that the examples she provides would resonate with middle school girls today. (My own 7-year-old daughter would probably like them, so I suppose that's a decent enough proxy).
Overall, the book appears to me to be a good tool to have in the arsenal, but it alone, of course, won't make girls like math (or make them good at it). In conjunction with supportive parents and teachers, though, "Math Doesn't Suck" can certainly be a nice math resource for girls, encouraging them to gain confidence working math problems out themselves, and learning that girls who used to be afraid of math ended up in successful careers where their math education is being put to good use.