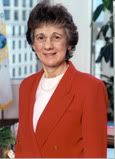 In terms of physical size, microbiologist Rita Colwell is a petitie woman. However, her distinguished research and service career has made her a giant in her field. Her research revolves around many aspects of water ecology, including the intersection of the environment and infectious disease (as I wrote about here following a talk she gave this past spring).
Much of her research has focused on Vibrio cholerae, including devising simple (and inexpensive) methods to remove the bacterium from contaminated water using cloth filtration. For these achievements and more, Dr. Colwell will be awarded the National Medal of Science tomorrow. More after the jump...
The National Medal of Science recognizes the outstanding contribution Dr. Colwell has made to the fields of molecular biology and microbiology of the aquatic environment. Dr. Colwell has been at the forefront of research on the bacterium, Vibrio cholerae, the water-borne pathogen responsible for deadly outbreaks of cholera in the developing world. Her research efforts have led to actions that significantly improved drinking water quality and reduced the number of deaths in affected regions of the word, including Bangladesh and India.

Within the United States, Dr. Colwell and her laboratory are examining the distribution and ecological interactions among bacteria, viruses, and plankton in the Chesapeake Bay. She is currently developing an international network to address emerging infectious diseases and water issues, including safe drinking water for both the developed and developing world.

"What a well-deserved and prestigious honor for a real leader in the biological sciences research community," said Dr. Kent Holsinger, AIBS Past-President and Professor in the Department of Ecology and Evolutionary Biology at the University of Connecticut. "Dr. Colwell's work has both improved our fundamental understanding of basic biological systems and provided innovative solutions to serious public health challenges."
Dr. Colwell is the President-elect of the American Institute of Biological Sciences, and will be chairing next year's annual meeting will be on climate, environment, and infectious diseases in Washington, DC.
Image from http://www.nsf.gov/pubs/2003/nsf03014/images/Rita.jpg