I rarely watch TV, but I'm always up for a good nerd show. So when I was contacted from a representative of the PBS affiliate in L.A. about a new show they were doing in conjunction with WIRED Magazine, I was definitely interested. The show is called WIRED Science (you can watch the pilot or previews on the site). It's kind of like a news magazine TV show--Dateline but with science (and, well, better personalities.) The show premieres next Wednesday, October 3rd at 8 PM (7 Central).
So how does this concern me, besides being an interested viewer? The reason they contacted me was because they're setting up a blog, "Correlations", to go along with the show--and I'll be one of the bloggers over yonder. This will also go live on Wednesday, and it will feature 8 of us blogging there about our varied areas of expertise: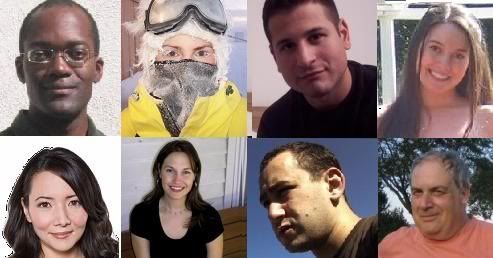 Find out all about it after the jump...
The guy on the top left may be familiar to some of you. That's Clifford Johnson of Asymptotia, a physicist who used to blog over at Cosmic Variance. Next to him is Tasmin Gray of Frozen Cheese. There's a reason for the look: Tasmin is a meteorologist working in Antarctica. Beside her is Damon Gambuto, a writer for WIRED Science.
The face on the top right will likely be familiar to many readers. That's fellow Scienceblogger Sheril Kirshenbaum of The Intersection, who will be writing about all sorts of topics that she already covers: science and the media, marine biology, global warming, and more.
On the bottom row is Ziya Tong, a host of the show; myself; Joe Brown, who covers technology for WIRED magazine; and Michael Tobis, another climate scientist, so we have an interesting mix of folks who will be writing about science from many different angles. It should be an interesting adventure.
So, while this will remain my blogging home, every now and then I'll point you over to posts at Correlations as well. I'm looking forward to working with a new group of people; blogging here at Scienceblogs and at The Panda's Thumb have been great experiences and have introduced me to so many excellent colleagues; I hope this will be just another step down that road.