This is the first of 6 guest posts on infectious causes of chronic disease.
by Matthew Fitzgerald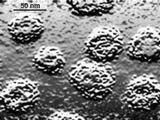 Viruses cause cancer?
Cancer researchers have for decades known that viruses can cause cancer. It is now estimated that 15% of the world's cancers are caused by infectious diseases including viruses. Some of these include: Human Papilloma Virus (HPV) and cervical cancer; Epstein-Barr Virus (EBV) and nasopharyngeal cancer & lymphoma; Hepatitis B and liver cancer. In fact cancer researchers use this knowledge of viruses causing cancer by utilizing EBV and SV40 and other viruses to "immortalize" cells in their labs to have better cancer models. These "immortalized" cells keep dividing and act like cancer cells so that researchers can continually propagate their experiments. It is believed these viruses interfere with oncogenes and tumor suppressor genes in the cells. These important genes act as the biological stop signs for cells to control their growth.
Can vaccines prevent cancer?
The simple answer is yes. It has been well documented that use of the Hepatitis B vaccine can significantly reduce the incidence of liver cancer. This success has lead other scientists to investigate whether new vaccines can prevent other forms of cancer. One of these other cancers is cervical cancer. Merck has introduced Gardasil that vaccinates women against 4 types of HPV types 6, 18, 16 and 11. These HPV types are believed to be responsible for 70% of all cervical cancers.
Could Gardasil protect against other cancers, such as breast cancer?
Possibly. New studies from the University of New South Wales may indicate that this may indeed be the case. In the January 2008 edition of the British Journal of Cancer a lead investigator in this study Dr. Lawson explains that in 11 of 13 studies conducted in several countries HPV DNA from types 16, 18 and others was found in breast tumors. He goes on to state that an additional 5 epidemiological studies revealed there was indeed a relationship between the age of onset of breast cancer if that person was positive for HPV. In one study, Greek women developed breast cancer 15 years earlier if they had an HPV infection in their breast tissue. Many of these researchers went on to say that HPV could be transferred to the breast during sexual activities or from the genitals to breast during routine bathing. However, they were cautious to state that this research is still in its early stages and that a direct link between HPV and breast cancer needs to be more fully researched.
Should women get the Gardasil vaccine to prevent breast cancer?
While these studies raise the interesting possibility that Gardasil, which vaccinates women for types of HPV that have been found in breast tumors, could work for preventing breast cancer, still the overwhelming reason to vaccinate young women with Gardasil is its proven prevention of cervical cancer. Perhaps the only true proof that Gardasil works against breast cancer will come when young women receiving the vaccine now show a lower incidence of breast cancer in the future. This potential protection of breast cancer maybe just another reason, if not as proven, to advocate for the use of Gardasil in young women.
Matthew Fitzgerald is an RAIII in the Free Radical and Radiation Biology program at the University of Iowa.
References
American Cancer Society- Infectious Agents and Cancer
National Academy of Sciences Review Of Hepatitis and Liver Cancer
Centers for Disease Control STD HPV information
Lawson JS, Glenn WK, Whitaker NJ, British Journal of Cancer (2008) 98, 510-511. doi:10.1038/sj.bjc.6604104 Published online 22 January 2008. Link.
Kroupis C, Markou A, Vourlidis N, Dionyssiou-Asteriou A, Lianidou ES (2006) Presence of high-risk human papillomavirus sequences in breast cancer tissues and association with histopathological characteristics. Clin Biochem 39: 727-731. Link.
Image from http://en.wikipedia.org/wiki/Image:EM_of_pap_virus%2C_basal_tissue_graf…