It's just not been Vegas' week. First a ricin-laced hotel room, then a clinic-associated outbreak of hepatitis C virus (and potentially hepatitis B and HIV) that could become enormous. Meanwhile, an outbreak of hepatitis E is raging in Uganda. So what are these virues, and how in the world could a medical catastrophe of this magnitude happen in the U.S.? More after the jump...
The group of hepatitis viruses (A, B, C, D, E, and G) are related in name only. They've all been either associated with or found to cause hepatitis--inflammation of the liver. This can be acute inflammation (short-lived; lasting less than ~6 months) or it can become chronic--persisting for years. Chronic infection with these viruses can also lead to liver cancer; in fact, infection with hepatitis B or C is one of the most important risk factors for primary liver cancer.
Hepatitis A
As far a human disease goes, the beginning of the hepatitis virus alphabet soup cause, by far, the most morbidity and mortality. Hepatitis A is a picornavirus with a single-stranded RNA genome. Hepatitis A is unique among the hepatitis viruses when it comes to transmission and disease manifestation. Like the related polio virus, the primary route of transmission is through the fecal-oral route. Outbreaks of the virus have occurred primarily due to food which has been contaminated with fecal material. This virus also differs from B and C in that it's not been shown to cause a chronic manifestation of disease. There is, however, a vaccine available.
Hepatitis B
Hepatitis B virus is a DNA virus, and by far the most prevalent of the hepatitis viruses. It's estimated that a third of the world's population has been exposed, and between 3-6% are infected at any one time. Transmission is known to occur from exposure to blood and body fluids--via sex, injection drug use or other blood exposure, and during pregnancy and breast feeding. Prevalence varies worldwide, with the highest rates in Africa, China, and parts of South America.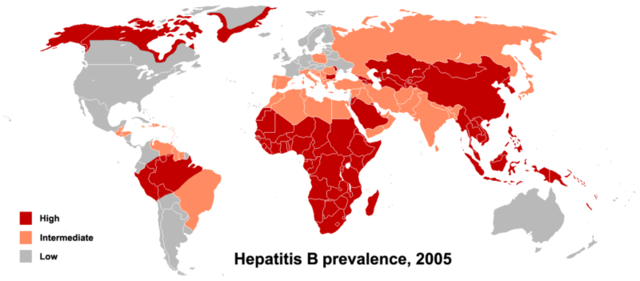 Not coincidentally, these areas also have high rates of liver cancer, as HBV is a main risk factor for the development of this cancer. However, as with the hepatitis A virus, a vaccine is also available. Though the HPV vaccine gets a lot of press as the "first cancer vaccine," HBV truly should have that claim to fame. However, the HBV vaccine has also had its own share of controversy. For one, because--like HPV--hepatitis B can be transmitted sexually, there was some resistance to having infants vaccinated against a sexually-transmitted disease. Second, rates of HBV infection in the United States are fairly low, so some argues that the HBV vaccine was an unnecessary vaccine in this country. However, acquiring an HBV infection in infancy makes it much more likely the infection will become chronic.
Hepatitis C
Previously known as "non-A, non-B" infectious hepatitis, the hepatitis C virus was discovered in the late 1980s (after being hypothesized to exist based on the epidemiology of transplant-associated hepatitis since at least the 1970s). Hepatitis C is a flavivirus with an RNA genome, related to the viruses that cause yellow fever and dengue.
The transmission of hepatitis C is similar to that of HBV: transmitted mostly by blood and sex, although blood-borne transmission (especially injection drug use) seems to be the main route of spread. Worldwide, it's estimated that 150-200 million people are infected with this virus, including 35-185,000 new cases every year in the U.S.--and there's no vaccine for this one. However, treatment is possible, with interferon alpha and ribavirin (the latter may need to be taken for almost an entire year to be effective). Morbidity and mortality are even more severe when an individual is co-infected with more than one of the hepatitis viruses, and hepatitis C infection has also been found to increase the risk of subsequent development of liver cancer.
Hepatitis D
The hepatitis D virus is another RNA virus; however, alone the virus is essentially a non-entity, as it can only replicate when the hepatitis B virus is also present. Though the virus doesn't cause any pathology on its own, when present in conjunction with HBV, their combined presence causes an increased mortality rate (up to 20% of those infected).
Hepatitis E
Hepatitis E is another RNA virus, similar in many ways to Hepatitis A, especially because its main mode of transmission is via the fecal-oral route and from contaminated food and water. Also like Hepatitis A, it doesn't appear to have a chronic stage. Though mortality is typically low, deaths occurring as a result of a large-scale outbreak can be higher than during endemic infection. Additionally, mortality can be very high in women who are in late stages of pregnancy: up to 20% of women who are infected in their third trimester die. Hepatitis E is unique, however, in that it can be zoonotic: in addition to humans, it can infect many species of livestock, as well as non-human primates (and, apparently, rats in the United States).
Human Hepatitis E infection is quite uncommon in the United States; the cases we see here are mainly in travelers who contracted the infection outside of the country. It is more frequently seen in parts of Africa, Asia, and south of our border in Mexico. Currently, an outbreak of Hepatitis E is simmering in Uganda, resulting in over 300 cases and 11 deaths thus far since the outbreak began in November.
Hepatitis G
Finally, another RNA virus, Hepatitis G, rounds out our alphabet soup of hepatitis viruses. However, there's uncertainty about whether the virus causes any clinical symptoms at all, although it was first associated with clinical hepatitis when identified just over a decade ago. Hepatitis G (also known as GB virus C) is related to Hepatitis C, and transmitted via blood and sex like HBV and HCV. However, unlike the synergistic effects one sees when a patient is infected with two type of hepatitis viruses, infection with both Hepatitis G and Hepatitis C appears to slow the progression of liver disease. Similarly, some studies have shown that HIV+ individuals who are co-infected with Hepatitis G likewise show prolonged survival with AIDS than an uninfected comparison group (though it should be noted this remains controversial, and it's unsure whether the virus is directly affecting this or if it's simply a marker for something else).
What the heck happened in Vegas?
So, now that we have some background on the various hepatitis viruses, back to Vegas. It appears that, even in this day and age in a developed country, people are still re-using injection equipment:
The city of Las Vegas shut down the Endoscopy Center of Southern Nevada last Friday after state health officials determined that six patients had contracted hepatitis C because of unsafe practices including clinic staff reusing syringes and vials. Nevada health officials are trying to contact about 40,000 patients who received anesthesia by injection at the clinic between March 2004 and Jan. 11 to urge them to get tested for hepatitis C, hepatitis B and HIV.
The clinic director took out an ad in the local newspaper to discuss the situation and express sympathy for the fear the patients must be experiencing, but denies that supplies were re-used:
"The evidence does not support that syringes or needles were ever reused from patient to patient at the center," Desai wrote.
He leaves unexplained how 5 of the patients, whose infections were traced back to a visit on the clinic on the same day, managed to have phylogenetically-related viruses. That evidence supports the assertion that someone seriously messed up. Whether this may just be the "tip of the iceberg" in that other clinics may be similarly re-using materials remains an open question--and a truly inexplicable one given our knowledge of blood-borne pathogen transmission, and prevention thereof.
Image from http://upload.wikimedia.org/wikipedia/commons/thumb/0/09/HBV_prevalence…