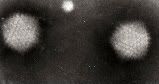 This is the fifth of 6 guest posts on infection and chronic disease.
By Whitney Baker
My previous blog post examined the idea of an infectious etiology for obesity by a group of possible infectious agents. While these pathogens have been associated with obesity in humans or animals, their causative role in human obesity has not yet been established. So for this round, I thought I'd focus in on the bug showing the most evidence for human obesity: Adenovirus-36.
(More after the jump...)
First, a little background on Adenovirus [1]... it most commonly elicits respiratory illness; however, certain serotypes may also cause various other illnesses, such as gastroenteritis, conjunctivitis (pinkeye), cystitis (bladder infection), and rashes. Adenoviruses are double-stranded DNA viruses, with 51 immunologically distinct types able to cause human infections. The viruses tolerate adverse pH conditions and are unusually chemically and physically stable, allowing for prolonged survival outside of the body. All types are transmitted by direct contact, fecal-oral transmission, and occasionally through waterborne transmission (think unchlorinated swimming pools). Some have been shown to be endemic in certain parts of the world and often infection is acquired in childhood.
Specifically, Adenovirus 36 (Ad-36) typically causes respiratory and eye infections. But somewhere along the way, scientists noticed something special about Ad-36. In 2000, Dhurandhar et al found that "animals inoculated with Ad-36 developed a syndrome of increased adipose tissue and paradoxically low levels of serum cholesterol and triglycerides." Of note, this study did use comparison groups inoculated with other pathogens both in mice and chicken. [2] In a total of 3 experiments, Dhurandhar et al showed the prevalence of obesity in chickens and mice infected with Ad-36 versus control animals were 60-70% (infected versus control), and 100% of non-human primates that were infected with Ad-36 gained adiposity (infected versus control). [2-4] They also noted significant decreases in serum cholesterol and triglycerides.
Two human studies relating to Ad-36 have been performed. In a 2005 analysis of 502 subjects, significant (p
The mechanism in which Ad-36 induces obesity is understood to be due to the viral gene, E4orf1, which infects the nucleus of host cells. E4orf1 turns on lipogenic (fat producing) enzymes and differentiation factors that cause increased triglyceride storage and differentiation of new adipocytes (fat cells) from pre-existing stem cells in fat tissue. [6]
So, as Ad-36 has been found in 30% of obese people in the United States (and in only 11% of those nonobese), one has to wonder about the possibly of "Infectobesity": obesity of infectious origin. [7] The obesity epidemic does seem to mimic that of an infectious cause, but I think it is highly unlikely that all of America's (and the world's, for that matter,) growing waistlines are attributable to Ad-36. It indeed may play a role in pathogenesis, but obesity has a heterogeneous causality, really. There most likely is an infectious component to obesity, but more research needs to be done. For now, I'll stick to the notion of calories in
Whitney has been interested in infectious diseases since the 8th grade. She has a Bachelor's in microbiology and a Master's in Public Health in epidemiology. Two years after landing a university job in infectious disease epidemiology research, she began working toward a PhD in epi. Whitney's focus area is emerging zoonotic diseases- in particular, the epi of cross-species pathogen transmission from animals to humans- but she has no idea what she'll do when she's no longer in school.
Works cited
1. Adenoviruses.
2. Dhurandhar NV et al. 2000. Increased adiposity in animals due to a human virus. Int J Obes Relat Metab Disord 24:989-96. Link.
3. Kolesar JM et al. 2000. Direct quantification of AD-36 adenovirus DNA by capillary
electrophoresis with laser-induced fluorescence. Journal of chromatography. 744:1-8. Link.
4. Dhurandhar NV et al. 2001. Transmissibility of adenovirus-induced adiposity in a chicken model. Int J Obes Relat Metab Disord. 25:990-6. Link
5. Atkinson RL et al. 2005. Human adenovirus-36 is associated with increased body weight and paradoxical reduction of serum lipids. Int J Obes (Lond). 29(3):281-6. Link.
6. Atkinson RL. 2008. Could viruses contribute to the worldwide epidemic of obesity? Int J Pediatr Obes. 3 Suppl 1:37-43. Link.
7. Pasarica M, Dhurandhar NV. 2007. Infectobesity: obesity of infectious origin. Advances in food and nutrition research. 52:61-102. Link.
Image from http://upload.wikimedia.org/wikipedia/en/0/0d/Adenovirus_4.jpg