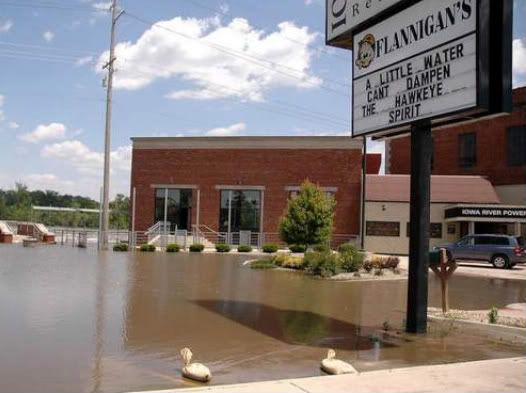 Here in the Iowa City-Cedar Rapids corridor, the waters have been going down for several days, and people are being allowed back into their homes and businesses to begin assessing the damage and cleaning up what remains. However, while the dangers from the initial flooding are receding along with the waters, the clean-up and aftermath bring about a new set of misery.
Flooding is a potential nightmare when it comes to infectious diseases. The water can bring people returning to their flooded residences into contact with sewage, animal carcasses, and other sources of pathogens--and warm waters in June can mean the rapid replication of these organisms. Flooded waters can bring individuals into contact with a variety of diarrheal pathogens, including E. coli, Giardia, and Cryptosporidia. Individuals who have wells should also have their well water tested ( the University Hygienic lab offers testing kits), and individuals are being warned to avoid food from flooded gardens as well.
Eyes and skin are also vulnerable to post-flood pathogens, especially when coupled with another main cause of post-flood morbidity: injuries. These can exacerbate infection (by creating breaks in the skin, for example).
Another problem that will only increase in the coming days: mold. Again, the health department has a short instruction sheet on post-flood mold cleanup, and individuals are already removing carpet, drywall, and other soaked materials in an effort to start drying out.
Finally, another problem in the coming weeks could occur from the residual standing water, providing additional breeding grounds for mosquitoes--and therefore a greater chance of transmission of arboviral diseases (including West Nile and other viral encephalitides).
Update: MSNBC has a bit more detailed article describing the risks I list above as well as a few others.
Image from Iowa City Press-Citizen.