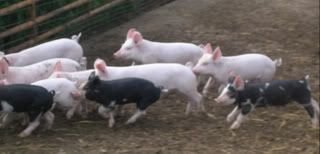 I've mentioned repeatedly how little we know about Ebola ecology--what the reservoir host(s) are, how it's transmitted to humans (and other species), why it causes outbreaks when it does. We know even less about the Reston subtype of Ebola, which--in contrast to the Zaire, Sudan, Ivory Coast, and Bundibugyo subtypes, originated in Asia and was first found in monkeys imported into the United States for research purposes. It also is different from the other subtypes in that it appears to be only mildly lethal to monkeys, and several asymptomatic human infections have been documented (but none where humans appear to have developed symptoms).
Now we might have another chance to study Ebola Reston in nature, as Ebola Reston has been found in pigs from the Philippines:
Ebola, one of the most feared infectious diseases, were discovered during tests at a USDA laboratory. The World Health Organization, said it is looking into whether the infection in pigs poses any threat to humans.

"While it's believed that Ebola-Reston is primarily a disease of animals, we are working with the Philippines government to see if there are any potential risks to humans," said Gregory Hartl, a spokesman for the WHO in Geneva. "At the moment, we believe the risks are quite low."

The pigs, which came from four farms north of Manila, were also infected with at least two more-common diseases, stated Davinio P. Catbagan, the Philippines' chief veterinary officer. An outbreak of diseases which begun late last year wiped out entire herds in some cases.

Planned shipments to Singapore have now been suspended. "We are suspending pork exports until we're sure there's no risk to humans", Agriculture Secretary Arthur Yap told reporters in Manila.

It is the first time Ebola has been reported in pigs. A Philippine report however said the pig outbreak was "considered of negligible public health importance."
The Bloomberg version of the story has more on the implications this new finding has for investigations of the ecology of Ebola:
International scientists will converge on farms in the Philippines to help local authorities discover how pigs contracted Ebola-Reston, a monkey-killing strain not known to harm people. The findings may help identify which species carries the virus in the wild without getting sick, enabling the pathogen to persist undetected in the environment, said Juan Lubroth, head of infectious diseases in the animal health unit of the Food and Agriculture Organization in Rome.

Knowing the natural host of Ebola will help people better protect themselves against one of the most-feared infectious diseases. African strains usually kill 50 percent to 90 percent of those infected through lethal bleeding and organ failure, according to the World Health Organization.

"Since the 1970s, scientists, veterinarians, microbiologists and physicians have been looking at thousands of species to see if they can find this elusive reservoir, and we have been pretty much empty-handed," Lubroth said in a telephone interview today. "This opens up avenues to delve into the ecology and do more searching."
They don't know yet how the pigs (which came from 4 different farms in three provinces north of Manila) ended up infected with Ebola, and I don't see anything in the reports that nails down whether these particular pigs were ill (though I'll assume they were, since 1) they were tested, and 2) they note that "an outbreak of diseases" had wiped out entire herds where these pigs originated from). They mention "the animals were also infected with porcine circovirus type 2 and a type of porcine reproductive and respiratory syndrome similar to that which killed pigs in China and Vietnam during the past two years," which, like the initial Ebola Reston studies in monkeys, may cause pigs to have more severe symptoms (again assuming they were symptomatic) than if they'd been infected with only Ebola Reston alone.
Will Ebola end up to have an epidemiology similar to Nipah virus, which was discovered because of the bat-pig-human nexus that led to a human outbreak? Can't wait to see what they find out in the coming weeks...
UPDATED: a bit more information (via CIDRAP). From the OIE (World Organization for Animal Health) report comes information that people in contact with these pigs have already been tested:
Samples were collected from people and animals in the affected areas. Serum samples from animal caretakers and other people exposed to the animals were collected and tested at the DOH-RITM (Department of Health - Research Institute for Tropical Medicine), and all indicated negative results to Ebola-Reston antibodies. Results from animals are still pending the arrival of kits for swine testing from CDC, which have committed to send in the Philippines. All animals in the affected areas have been put under strict quarantine.
It also shows that the viruses were initially isolated back in October.
Additionally, the FAO (Food and Agricultural Organization of the UN) has released a report giving background on Ebola Reston and an overview of the current findings.