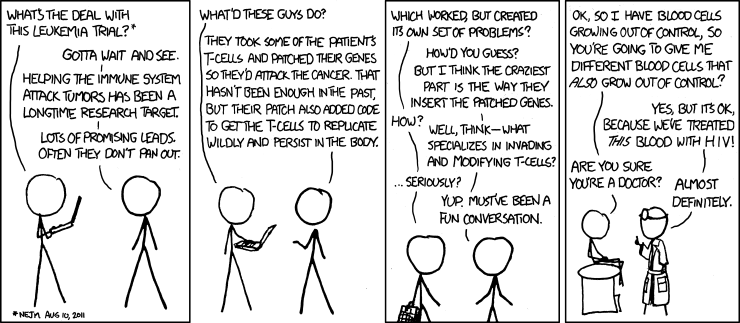 My response:
Patient: Are you sure youre a doctor?
If you are a regular reader of ERV, one of the Big Ideas I hope you take away from this blog is 'Viruses are not Bad Guys' (more, more, this list isnt exhaustive, Ive written about this a million times).
Yes, we tend to notice them when they make us sick. But the fact of the matter is, they are super little creatures who have been evolving on this planet for millions and millions and millions of years, and have figured out how to do fantastic things that we can take advantage of for research and treatment purposes.
Analogy: Yeah, a pack of wolves can kill you. But domesticated dogs are fantastic companions, they can help the handicapped, protect us from bombs, save us from drowning or from the rubble of an earthquake, they are super fun alarm clocks and self-protection weapons, etc.
'Wild' HIV-1 can kill you, and domesticated HIV-1 can cure your cancer.
I want that to stop being a weird concept.