As swamped as I've been for the past two weeks, I nonetheless found time to visit the Virginia Antiquarian Book Fair on April 28. It was held at the Library of Virginia in Richmond.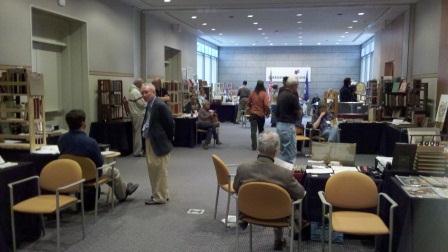 The drive to Richmond is a little over two hours each way, and I had to leave the fair early to hold a Saturday office hour for my students with Monday finals (are you impressed by my dedication?), but it was well worth the trip.
Somewhere between thirty and forty book dealers were represented.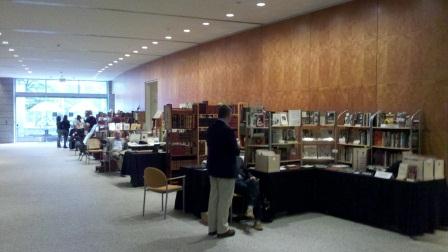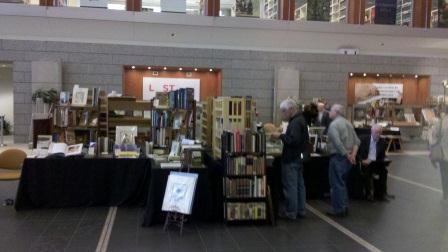 Unsurprisingly, there was a heavy emphasis on American history, especially books related to the Civil War. There was also a lot of general fiction on hand. Science books were less well represented, but I am a skillful browser and managed to ferret out some choice items.
For example, I visited the display for DeFreitas Books, run by Wilfrid DeFreitas and his wife Susan.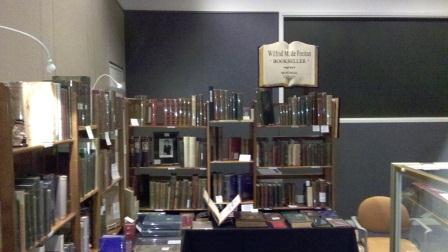 They were visiting from Montreal, Canada. And I thought I had a long drive! They really know their books, and I had a pleasant conversation with both of them: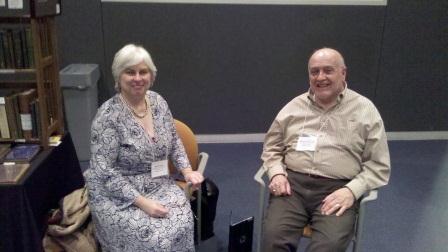 They were certainly well-stocked with Darwin books: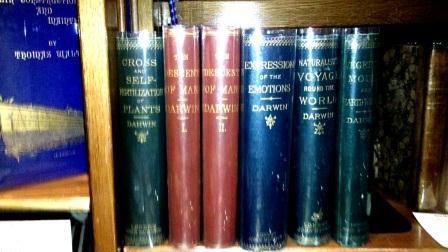 Among their offerings was a first U. S. edition of The Descent of Man: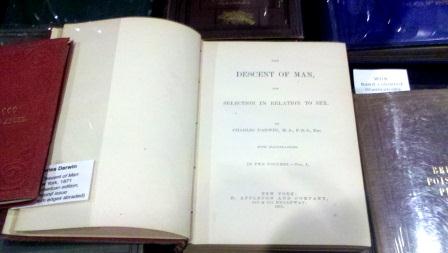 I was drooling, but at $850 it was a bit out of my price range. I did, however, pick up a few items from them, including this interesting volume: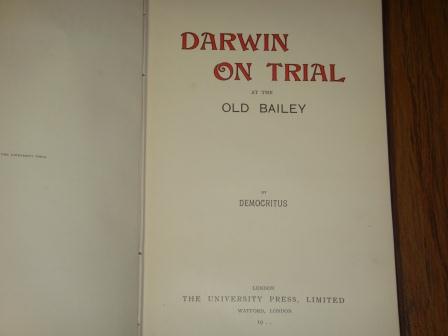 Upon seeing the title, my first thought was of that miserable creationist tract from Phillip Johnson. Happily, this was something else entirely. It seems that "Democritus" is the pseudonym of F. Raymond Coulson. Darwin on Trial at the Old Bailey is a play based on an actual trial in London, in which a book dealer was brought up on charges for selling Havelock Ellis's book Sexual Inversion. The play opens with the clerk of the court announcing the charges:
Alexander Gilbert, you are indicted for being a person of a wicked and depraved mind and disposition, having unlawfully and wickedly devised, contrived, and intended, to vitiate and corrupt the morals of liege subjects of our Lady the Queen, to debauch and poison the minds of divers of the liege subjects of our said Lady the Queen, and to raise and create in them disordered and lustful desires, and to bring the said liege subjects into a state of wickedness, lewdness, and debauchery, and for having on the 20th day of June in the year of our Lord one thousand eight hundred and ninety-eight, at a certain shop in Booksellers Lane in the county of London, and within the jurisdiction of this court, unlawfully, wickedly, maliciously, scandalously, and willfully published, sold, and uttered a certain lewd, wicked, bawdy, scandalous, and obscene libel in the form of a book entitled Sexual Selection and Human Marriage, alleged to be written by William Newton Cecil, in which book are contained, amongst other things, divers wicked, lewd, impure, scandalous, and obscene libels, and matters, which said book is, pursuant to the porvisions in that behalf of the Law of Libel Amendment Act, 1888, to the manifest corruption of the morals and minds of the liege subjects of our said Lady the Queen, in contempt of our said Lady of the Queen, and her laws, in violation of common decency, morality, and good order, and against the peace of our said Lady the Queen, her crown, and dignity. Alexander Gilbert, are you guilty or not guilty?
I was sold at "wicked and depraved mind." Sounds like my kind of story! That the Dramatis Personae lists "The ghost of Charles Darwin" as a character is just gravy. If anyone knows any more about the history of this play, let me know in the comments.
I also visited the stand for Ex Libris Books, run by Jim and Marie Martinelli, right there in Richmond.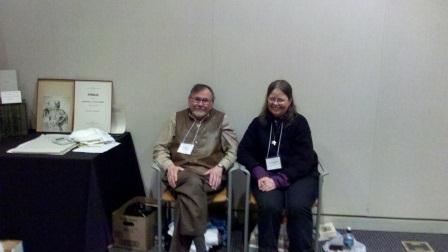 They had a number of interesting volumes, including a first edition Nero Wolfe novel. I picked up a copy of Darwin's journal from his time on the H. M. S. Beagle: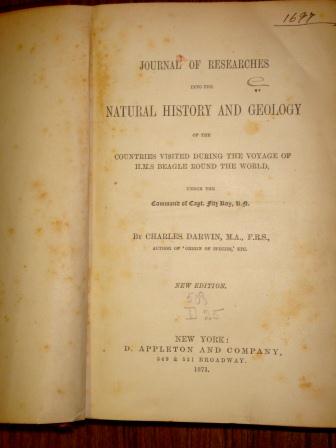 But my happiest acquisition from the whole fair was this copy of Gaston Leroux's The Mystery of the Yellow Room: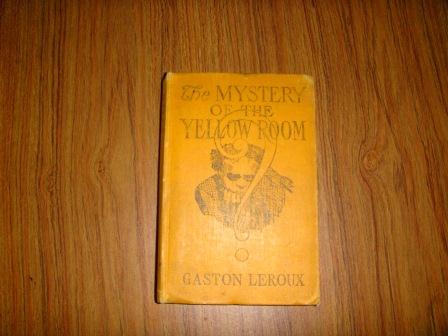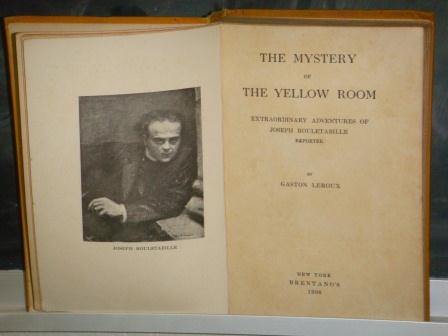 I have written before about my love of locked room mysteries (click here and here), and the inclusion of The Mystery of the Yellow Room certainly plugs a major hole in my collection. Leroux is better known for having written The Phantom of the Opera (you did know it was a novel, right?) No less an authority than John Dickson Carr described Yellow Room as the finest detective story ever written. And now I have a copy!
Virginia is something of a haven for people interested in old and rare books. Visit the website for The Virginia Antiquarian Booksellers' Association for the numerous options available to you. Nowadays all you hear is that print books are dying. Anything old and worth reading is probably available for free on the internet. Now, don't get me wrong. I love my Kindle and I have a long list of e-books lined up and ready to go. But I also love good ol' print books. The volumes on sale at the fair were not just devices for transmitting words from writer to reader. They were works of art in their own right. Your shelves just look better for displaying such books.
Apparently the plans are to make this an annual event. I can't wait for the next one!
Now, if you can forgive me ending with a bit of self-promotion, let me mention that on Wednesday, May 16 I will be at the Library of Virginia speaking about the BECB (that's the big evolution/creationism book, for those not up on the local slang.) Hope to see you there!