OMG! Did you see the game between U. S. first board Hikaru Nakamura and Russia's first board (and former World Champion) Vladimir Kramnik at the big Chess Olympiad last week? No? It saw one of the rarest and coolest moves in chess. In the following position, it is Nakamura, playing white, to move: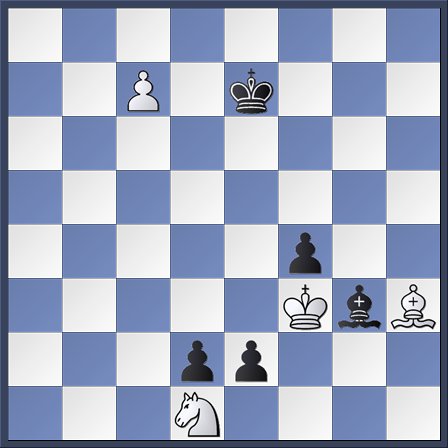 Let me remind you that when a pawn makes it all the way to the other side of the board, it can become either a queen, rook, bishop or knight. This is called pawn promotion. In nearly all situations you are going to promote to a queen, since that is the most powerful piece. When a person promotes to something other than a queen, it is referred to as an underpromotion.
Let me also remind you that white is moving up the board and black is moving down. Now, white might like to play 1. c8=Q, promoting to a queen. But then black just makes a queen of his own with 1. ... exd1=Q+, giving check to the white king, no less. So white's next try would be to play 1. Kxe2 first. But this allows black to save himself with 1. ... f3+ 2. Kxf3 Bxc7! eliminating white's last pawn. White's extra piece would not be enough to win. So what can white do?
The solution is to promote to a knight with 1. c8=N+!: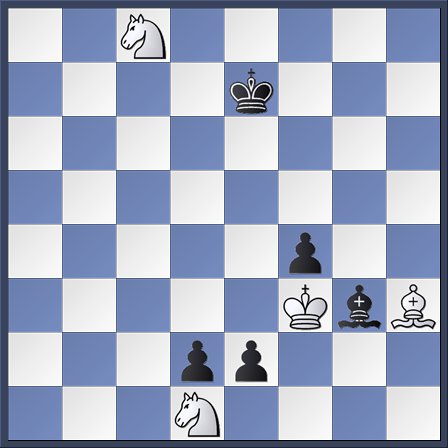 The point is that the knight gives check to black's king. That means that black has no time to make a queen of his own, since he must get out of check first. This gives white time to take the pawn on e2 on the next move. White, then up two pieces, can look forward to victory. Nakamura brought home the point, leading the United States team to a win against the top-rated Russians. Not too shabby!
Actually, this gives me an excuse to show you one of the most famous endgame studies of all time. It's white to play and win in the following position:
White starts with 1. c7!. Black must do something to stop the pawn, so he must try 1. ... Rd6+. How should white parry the check? If he runs away to the a-file, black will just play 2. ... Rc6 and snap off the white pawn on the next move. If white moves his king to b7, black will play 2. ... Rd7, pinning the pawn to the king. Black will then capture it on the next move, making a draw.
The interesting part happens if white tries 2. Kc5, attacking the black rook. But now black uncorks his main saving idea by playing 2. ... Rd1!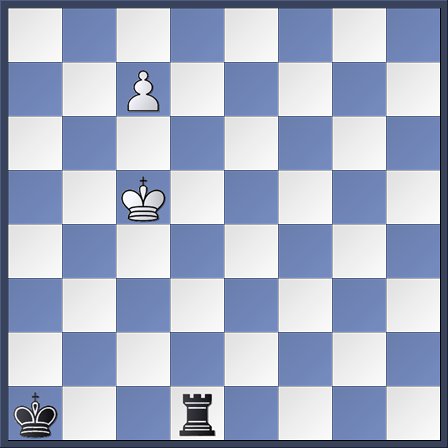 If white now promotes his pawn to a queen, black plays the skewer 2. ... Rc1+, and when the white king moves out of the way, black snaps off the new queen.
So the main idea is now clear. White cannot move to the c-file as long as black has room to get behind him for the big skewer. But white also can't move away from the b-file, since that would also allow black to get behind the pawn. The solution is for white to march down the b-file until there is no more room for black to play behind him. Black, for his part, must keep giving check until he can find a way to stop the pawn. Play continues: 2. Kb5 Rd5+ 3. Kb4 Rd4+ 4. Kb3 Rd3+ 5. Kc2!
Now black is in trouble. His little trick of running to the first rank to set-up a skewer no longer works. Since it would seem he has no way of stopping white from making a queen, perhaps it is time for him to resign.
But wait! Black has one more trick up his sleeve. He plays 5. ... Rd4!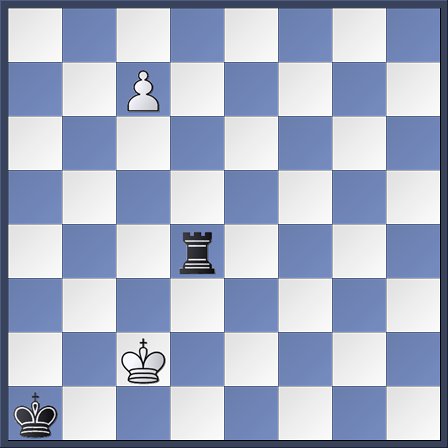 The point is that if white now promotes his pawn to a queen, black uncorks: 6. ... Rc4+, and after white takes the rook with his queen we get this: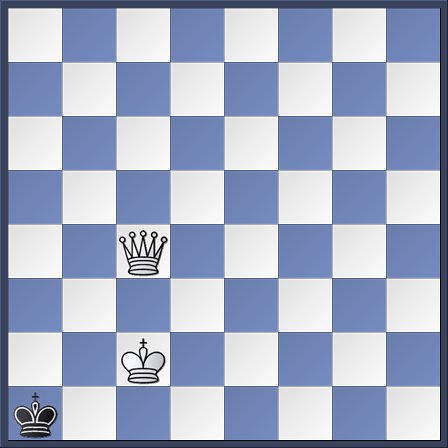 Folks, that's a stalemate. Stalemate's a draw. White wants more! And he can have it, too, by playing the clever underpromotion 6. c8=R!. Now black's little stalemate trick no longer works. It gets worse! White is now threatening to move his rook to a8, giving check to the black king with mate soon to follow. Black's only defense is to black the a-file with 6. ... Ra4 But now white finishes things off with 7. Kb3!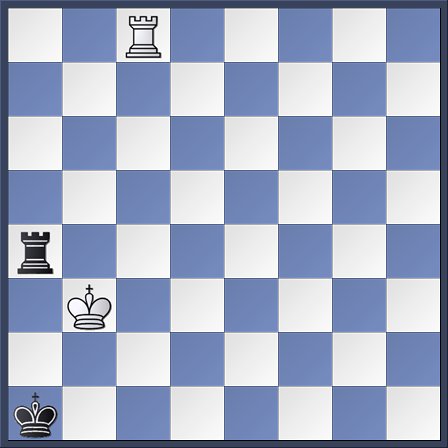 And that's the end of that. White is threatening both to take the rook on a4, and also to give checkmate by moving his own rook to c1. Since black has no acceptable way of stopping both threats, the game is over. Clever stuff!