I was in Kentucky for most of last week, visiting friends. I ended up in Bowling Green, stopping along the way in Morehead and in Loveland, OH (near Cincinnati). My friends in Bowling Green took me to Mammoth Cave National Park, which is really quite spectacular. All in all, an enjoyable trip.
I'll be hitting the road again on Wednesday for a little over a week. Part of that time will be spent visiting the 'rents at my New Jersey office, but I'll be spending several days in New York City as well. A mix of business and pleasure.
There's plenty of blog fodder out there. ID backbencher David Klinghoffer is pouting at me over some remarks I made over at Jerry Coyne's blog. Yawn. Replying in detail would require a level of interest I currently lack. Let me suggest you simply read my full remarks, and then compare them to Klinghoffer's sleazy distortions.
So how about a chess post instead?
As a tournament chess player, you occasionally have moments where you win a minor masterpiece. A daring king-side attack comes through, perhaps, or you pull off a decent piece of calculation in the endgame. But there are also the other times, when you get yourself so tied into knots that you can barely move. In such situations you experience a nearly physical sense of suffocation. No fun at all.
The recent Alekhine Memorial Tournament saw two examples, both featuring the Vietnamese grandmaster Ding Liren. In the first, playing white, he got the better of Levon Aronian. Have a look at this position: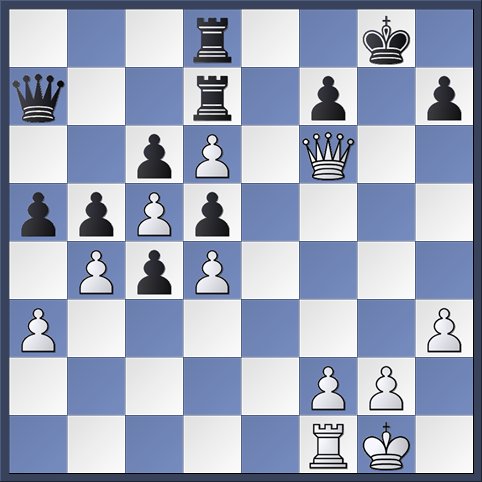 You've probably noticed that white is down a rook. That's the result of some enterprising sacrificial play from earlier in the game. White can now bail out with a perpetual check, and Ding remarked after the game that that was his intention when he played into this position. But examining the position more carefully reveals that back is extremely screwed. He can do nothing useful against the slow motion threat of Re1, followed by rook lift to the g or h files. That threat requires three moves to execute, but seriously, what can black do? Nothing, that's what! Play continued: 42. Re1 axb4 43. Re5 h6 44. Rh5 Qxa3 45. Qxh6 f6 46. Qxf6 and black resigned. Here's the final position: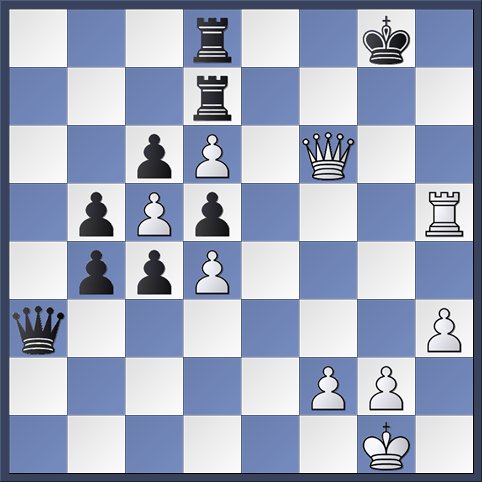 Black's king is looking a bit bare.
In the second example, Ding was on the other side. Here's the final position of his game against French grandmaster Maxime Vachier-Lagrave, in which he was playing black: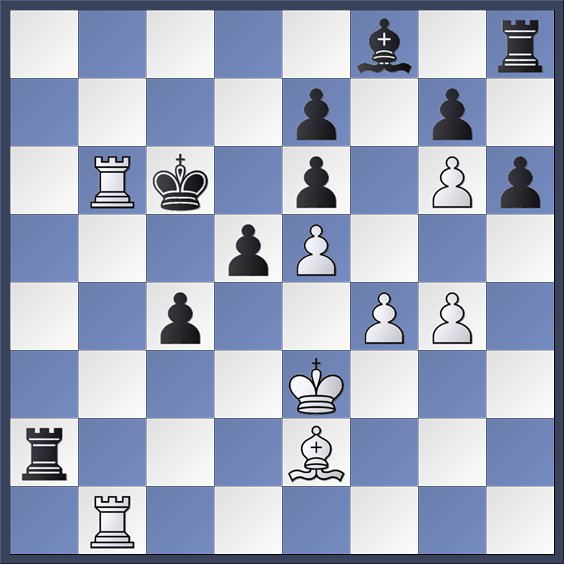 Black is actually up two pawns, connected passed pawns at that, but just look at his kingside! How on earth is he ever going to liberate his rook and bishop? Black may have two extra pawns, but he is basically down two pieces!
Black resigned here, which is interesting, since he is not actually facing any immediate threats. The computer has to analyze for several minutes before deciding that white is winning. But black realized he was so helpless that there was no need to wait for white to find the finishing shot. An interesting tactical point is that after black gets out of the check, say with 1. ... Kc7, white can play 2. Kd4! If black grabs the bishop with 2. ... Rxe2, white will give checkmate starting with 3. Kc5! Black can only stop this plan by retreating into further passivity with 2. ... Ra7, but at this point basic human decency prevents me from analyzing further.
So, two cautionary tales about what to avoid at the chessboard.
KY has some great state parks if you have time to visit any.
Due for completion in 2015, the work will see the Colosseum's earthquakebattered, exhaustfumefugged, 1,940yearold stones comprehensively scoured and the visitor area increased by 25 per cent. This facelift, it is widely agreed in Rome, is one that's urgently required: there are alarming reports that the amphitheatre is leaning, Tower of Pisastyle, on its south side. As a result, the plan to repair the crumbling Colosseum nearly crumbled itself until last month it finally got the goahead, with a Tod's statement insisting on its intention "to restore to Colosseum for patronage only, without any commercial purpose".