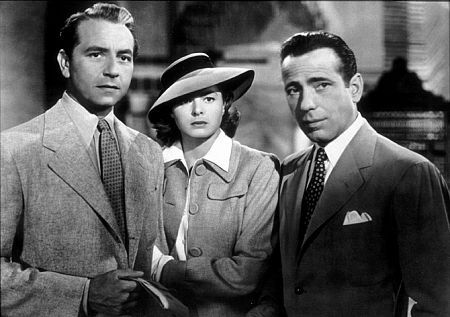 In the classic film Casablanca, the drama hinges on Ilsa's choice between two men: her kind and supportive husband or her rugged and passionate ex-lover. In a moment of abandon, Ilsa returns to her lover's arms only to later change her mind and choose the more stable life she would have with her long-term partner. But what if something as simple as a pill had caused Ilsa to feel differently and make the opposite choice?
In a new paper in the journal Trends in Ecology and Evolution biologists Alexandra Alvergne and Virpi Lummaa at the University of Sheffield in England raise the possibility that taking the birth control pill could affect a woman's choice of who she chooses to have sex with as well as her choice of a long-term partner. Could modern reproductive technology cause women in Ilsa's position to make a choice they might later regret?
Past research has shown that women have a variable strategy where sex is concerned. While most women will engage in sexual behavior throughout their cycles, during their most fertile phase women often demonstrate very different choices over the qualities they find attractive in the opposite sex. The birth control pill, these researchers suggest, alters the hormonal cues that evolution has shaped as part of female sexual strategy.
Over the past decade more than 75% of all studies looking at cycling mate preferences have shown that, during their most fertile period, women prefer more masculine and symmetrical male features and are particularly attracted to men showing dominance and competitiveness. It is during these times in their cycle that women have shown the greatest likelihood of cheating on a partner (what Alvergne and Lummaa refer to as "extra-pair copulations") or engaging in a one-night stand. However, during the infertile parts of their cycle women tend to prefer less masculine faces and are more attracted to males that make better long-term partners and devoted fathers.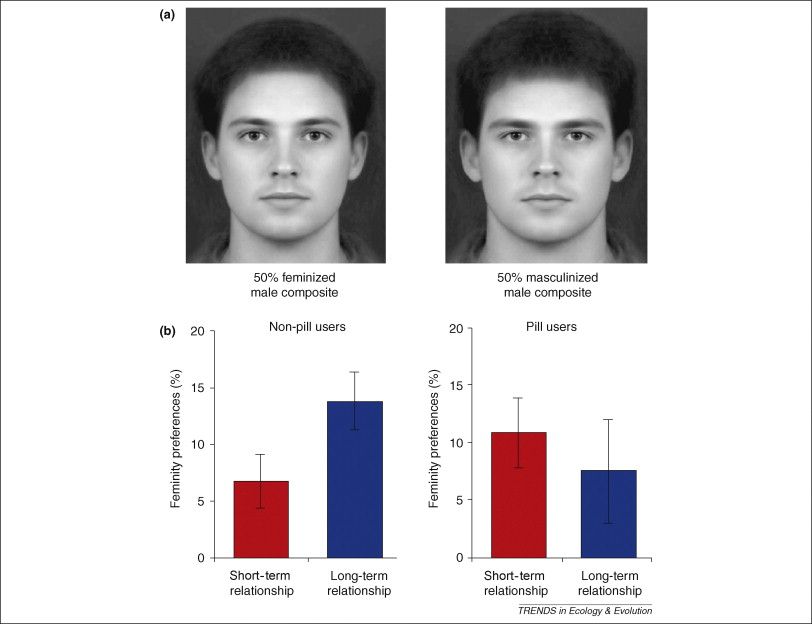 Women who aren't on birth control prefer less masculine faces for long-term relationships.
Image from
Alvergne and Lummaa (2009)
This "dual sexuality" is likely part of women's evolved sexual strategy to both have her cake and eat it too. Given the time and resources that are required of females in both reproduction and lactation, a supportive partner would be an important asset in a woman's reproductive success. But the traits that make for quiet evenings and good conversation might not be the best for the survival of her offspring in a difficult environment. In this case, the extra-pair copulation allows women to shuffle the genetic deck and increases the likelihood that some of her offspring will make it to reproductive age themselves. While, for many people today, the closest they'll ever get to the African savanna is Banana Republic, our bodies are still operating under the same assumptions they have for the past million years.
The trouble with oral contraception, Alvergne and Lummaa suggest, is that by altering the normally cycling hormones women will certainly prevent pregnancy, but they might inadvertently be altering their choice of what qualities they're attracted to. As they explain in their paper:
New evidence suggests that the pill, by eliminating oestrus, changes the natural cycling preferences in women for markers of both genetic quality and compatibility in mates as well as natural cycling attractiveness to men. As compared with normally cycling women, pill users show no or weaker preferences for facial and vocal masculinity. For instance, the preferred face shape is more masculine during the high conception-probability phase of the menstrual cycle in non-pill users, but pill users do not show similar preference.
The concern of the researchers is that a woman who gets involved with a guy while on the pill might find that she's no longer compatible with him once she stops later on in the relationship. Imagine waking up next to your boyfriend, or even your husband, one morning only to discover that you're just not that into him. While female comedians make such scenarios commonplace in their stand-up routines, Alvergne and Lummaa suggest it could be a serious reality for modern women.
However, before discarding the rest of this month's pack into the waste bin, it's important to know that these concerns have yet to be proven, or even tested. While the hormonal aspects of women's sexual choices are well demonstrated, as are the modifications that result while on birth control, the potential impact of these different choices remains an untested hypothesis. However, since birth control has been such an important invention for so many women today, it would seem that these studies would be of great concern to pill manufacturers:
Given the centrality of relationship satisfaction and offspring quality in the subjective well-being of women and mothers, drug companies marketing hormonal contraception should be encouraged to institute large-scale clinical trials investigating behavioural and psychological side-effects potentially associated with oral contraceptives, and any possible maladaptive side-effects of pill use on mate choice, attractiveness, relationship satisfaction, divorce probability and offspring health.
If these problems were associated with Viagra you can be certain that millions of dollars would be devoted to this research. But, as is often the case where women's issues are concerned, medical research and consumer options are profoundly limited. Alvergne and Lummaa's research suggestion would, however, be an important step towards fully understanding the health and emotional well-being associated with different contraceptive technologies.
Standing on the tarmac between the two men in her life, Ilsa is confronted with one of the great struggles of human sexual evolution. As she says to her lover before leaving him to join her husband, "With the whole world crumbling, we pick this time to fall in love." If Ilsa's conflict between partners is any indication, sexual relationships are difficult enough without having additional factors messing with your decision-making ability. Natural selection may not dictate every aspect of our lives--biology is not destiny after all--but the long arch of our evolutionary history has powerfully shaped how we experience the world today. As we continue to develop techniques that hack our biology to make life more compatible with our modern desires, it's important to keep the long view of our evolution in mind. As Sam the piano player reminds us, "the fundamental things apply as time goes by."
For more on Dr. Lummaa's work see my post: Why Do Women Experience Menopause?
UPDATE 1: Razib at Gene Expressions has linked to this post with a graph depicting a rise in divorce rates since 1960. He doesn't state his reasoning behind it, but several readers assumed he was suggesting that birth control was responsible. There is no evidence for any such link.
UPDATE 2: Razib has clarified his position and agrees that any link between birth control and divorce rate has no basis. Reference:
Alvergne, A., & Lummaa, V. (2009). Does the contraceptive pill alter mate choice in humans? Trends in Ecology & Evolution DOI: 10.1016/j.tree.2009.08.003