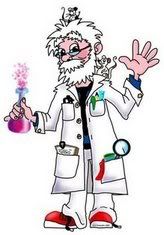 So, much attention has been drawn to my comment pointing out that Rebecca Culshaw is a mathematician (well, isn't she?), while my elaboration in my very next comment was ignored. So I thought I'd take some time to highlight this, and discuss the problems in general with arguments from authority.
Let me review a bit:
When I made the "mathematician" statement, I was responding to Hank's promotion of Culshaw's post: "Here is a great piece by Dr. Culshaw, a Professor of Mathematics at University of Texas which elucidates the issue." Hank suggested this reference instead of the 3 sources I'd suggested in this comment. Darin Brown, in response to my mathematician quote, quipped, "Well, she must be wrong, then." I responded:
That's not what I said, nor what I suggested. I simply don't take someone at their word about infectious disease when I don't know if they have any background in it, and I've yet to see any evidence that she does. I'm not also saying I'm correct because I have extensive background in this area. If you look at these threads, the only ones arguing from authority are Bialy, Hank et al. I prefer to stick to the evidence. Highly degreed people can be wrong, and laymen can be right, so I don't argue by letters.
Janet recently wrote a very nice post discussing scientific expertise. To quote from her now:
This list of my qualifications is an expression of my comfort level more than anything else. It's not elitist -- good training and hard work can make a scientist out of almost anyone. But, it recognizes that with as much as there is to know, you can't be an expert on everything. Knowing how far the tether of your expertise extends is part of being a responsible scientist.
And this is the heart of it. You've probably noticed that I discuss a pretty limited range of topics here. I'd consider myself to have expertise in microbiology, molecular biology, epidemiology, infectious disease, microbial pathogenesis, and many (but not all) aspects of general evolutionary biology, and maybe a few other areas I'm forgetting. In other areas, I'll happily discuss what others say, but I may not have a lot of insight of my own to add--the research may be too far from my areas of expertise for me to feel I can competently comment on it, besides a, "whoa, that's really cool." Scientists--even highly degreed ones--can be very wrong, especially when they stray outside their area of expertise. A famous example is that of Linus Pauling, a genius in his field but, well, a bit of a quack when it came to recommending megadoses of Vitamin C, or Fred Hoyle discussing evolutionary biology. So it means very little to me to simply say, "well, so-and-so is a Professor of Economics with two PhDs, so therefore we should accept his opinion on infectious disease." But, that doesn't mean they should be dismissed simply because they lack degrees, either, as Janet mentioned. Indeed, several contributors to The Panda's Thumb (such as Ed) have no formal training in evolutionary biology--they've taken the time to learn about the arguments on their own, and know as much as (or more than!) many biologists about creationism and intelligent design.
And that's why I questioned--and still question--Dr. Culshaw's background and understanding. She's now said that she has "... studied both the microbiological and epidemiological aspects of AIDS"--but that wasn't what I was questioning. I assume she's studied HIV/AIDS (or I'd hope she had, modeling it at all)--what I want to know is what background she has in general biology, microbiology, and infectious disease epidemiology. It's easy to find so-called "limitations" in the HIV field and say, "aha! This data is lacking--thus the entire model must be wrong!" and not know that similar gaps exist in all areas of infectious disease epidemiology. As I mentioned here:
...one can have expertise in one field--mathematical modeling of disease--and be clueless in another--such as general infectious disease epi. You are correct that my PhD was not on HIV--it was on Strep pyogenes. I've also worked carrying out research on about 20 different viruses, and currently work with Strep suis, group B strep, E. coli, and influenza. I think my breadth of understanding allows me to view HIV in the wider context of infectious disease epi than someone who's only studied one small aspect of a single pathogen their entire career.
Finally, as I mentioned, arguing from authority presents other problems: namely, lots of other authorities who disagree with you:
...if you want to merely argue from authority, then what about all those other HIV researchers--who have more publications than Dr. Culshaw under their belt--and who agree that HIV causes AIDS? Ah, right, they can just be dismissed as "the orthodoxy" with their "bias." Isn't it fun when everything can be brushed away like that?
When you start to claim that every expert in a whole field is either too dumb (or "greedy", biased, etc.) to realize not only their own work is faulty, but that everyone else's is as well, you enter the realm of conspiracy theory. Of course, just because you're paranoid don't mean they're not after you, but it would seem to be the more straightforward explanation that the minority is incorrect--especially when they have no compelling evidence that overturns the "orthodox" view.
This isn't to say the minority isn't sometimes right--again, I'll cite Marshall and Warren's work on Helicobacter and ulcers. But they didn't prove their point by getting high-profile scientists to tout their claims (or by having a "public, adjudicated debate" to decide the outcome, as Culshaw suggests would settle the HIV question "once and for all") --they did it by testing their hypothesis, gathering data, and publishing it in the peer-reviewed literature--and soon the Davids became Goliaths. There's no reason this couldn't happen with other "unpopular" ideas as well--but do it via good hypothesis testing and confirmation, not because such and such an expert says that's the way things are.
image from http://www.spejdernet.dk/upload/professor_nysgerrig_farve.jpg