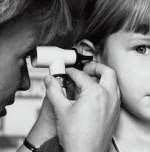 The good Dr. Flea has taken some flack previously for comments he's made regarding the treatment of ear infections (or rather, the non-treatment of such). As he notes, most ear infections resolve without antibiotics. Despite this, ear infections are the most common illness for which children visit a pediatrician, receive antibiotics, and undergo surgery in the U.S., at a huge economic cost. A new paper in the Journal of the American Medical Association suggests at least some of that cost is wasted, because the bacteria are present in the form of antibiotic-resistant biofilms.
A biofilm is, essentially, a mat of bacteria and extracellular goo that holds it together. They are everywhere: in your sink, your shower, your pond, and your body. (Dental plaque is actually a type of biofilm, consisting of dozens of different species of bacteria). Biofilms have gained the attention of scientists and medical professionals, however, largely because of their formation on in-dwelling medical devices such as catheters and heart valves. Bacteria growing in this form are specialized, and resistant to antibiotic treatment due several factors. First, the physical protection afforded to them by the extracellular matrix (the "goo" made up of polysaccharides), which makes diffusion of the antibiotic into the biofilm matrix more difficult; and second, the fact that many bacteria grow much slower in a biofilm than they do in their free-living ("planktonic") state. Since most antibiotics target bacteria which are actively growing, this retarded growth therefore serves to protect them. In fact, bacteria growing in a biofilm can be as much as 100 times more resistant to antibiotics than identical bacteria grown in a planktonic form.
How does this relate to ear infection? It was previously known that a species of bacteria that frequently causes otitis media in children--Haemophilus influenzae--could form a biofilm in a chinchilla model of otitis media. In this new study, they obtained biopsies from children preparing to undergo either a tympanostomy tube placement in order to reduce chronic ear infections (the study group) or cochlear implantation (the control group). When they examined the samples, they found that not only Haemophilus, but also other common pathogens of otitis media (Streptococcus pneumoniae and Moraxella catarrhalis) do indeed form biofilms within the middle ear of infected children. Overall, biofilms of some type were found in 92% (46/50) of the patients with otitis media, and were not found in the control samples (but this is a big limitation, because only 8 control samples were used).
When my son was young, he had chronic ear infections. I know how incredibly difficult they can be for both the parent and the child. I can't even recall how many times he was put on antibiotics, only to be in pain with a recurrent infection (and lots of lost sleep between the two of us) 6 weeks later. We had considered tubes or long-term administration of antibiotics, and were waiting for one more recurrence to decide--which never happened. This new paper makes a lot of sense from years of clinical observation (and that of many sleep-deprived parents and kids), but it doesn't give a lot of comfort when a child is up and screaming at 2AM that their ear hurts (or worse, can't tell you exactly what's wrong) and you just want to give them something, anything, to make it better. There is, however, a bit of light, as there is the possibility of designing drugs that block a bacterium's ability to form a biofilm in the first place. If this formation were prevented, antibiotics could be employed (theoretically, with a higher success rate), or perhaps the body's own defenses could better resolve the infection without any further intervention. Either way, as one of the study's authors opined, "We need to start thinking about ear infection in a different way."
Reference
Hall-Stoodley et al. 2006. Direct Detection of Bacterial Biofilms on the Middle-Ear Mucosa of Children With Chronic Otitis Media. JAMA. 296:202-11.
Image from http://www.safehomeproducts.com/SHP2/data/pictures/Earscope_Child_300x3…