I don't know if you've seen any of the posts here at Scienceblogs or Panda's Thumb about the Discovery Institute's newest protégé, Dr. Michael Egnor. A professor of neurosurgery at SUNY-Stony Brook, Dr. Egnor has been pontificating on how "Darwinism" has nothing to offer to medicine; and indeed, that evolutionary biology has "hijacked" other fields of study. Mike has already aptly pointed out many of Egnor's strawmen and intellectual dishonesties, so I won't review them all. I've stayed out of the fray until now because I've had limited time and others have been handling it quite ably, but he keeps treading into (and butchering) my territory, so I just wanted to point out a few other things Egnor is waving away when he makes statements like this:
Preventing the emergence of resistant strains of bacteria is important work, but the insight that Darwinism brings to the problem -- the unkilled ones eventually outnumber the killed ones -- is of no help. We can figure that out ourselves. The tough work on preventing the emergence of resistant bacteria is done by microbiologists, epidemiologists, molecular geneticists, pharmacologists, and physicians who are infectious disease specialists. Darwinism, understood as the view that "chance and necessity" explains all biological complexity, plays no role.
Sigh.
Others have already addressed the blatant ignorance of this statement (spouted following a paragraph wherein he claims that the evolution of antibiotic resistance is just a tautology), so I'm actually going to leave the antibiotic resistance stuff alone for the time being. What I want to address instead are other areas where evolution is critical for insights into many of those fields Egnor mentions, especially since my own research is at the convergence of the first three he lists: microbiology, epidemiology, and molecular genetics.
Egnor has claimed in multiple posts (starting here) that "evolutionary biology contributes nothing to modern medicine," or even worse, that:
...it's safe to say that the only contribution evolution has made to modern medicine is to take it down the horrific road of eugenics, which brought forced sterilization and bodily harm to many thousands of Americans in the early 1900s. That's a contribution which has brought shame--not advance--to the medical field.
What's baffling is that Egnor is able to cite the fields he does above and somehow separate them from evolutionary biology. I'm not exactly sure how he thinks these differences in the "molecular genetics" in a population have come about, if not for "chance and necessity"* at the heart of things.
Phylogenetic analysis and evolution
For example, I've written previously about using the molecular data acquired from sequencing Ebola viruses in order to predict where the deadly virus may emerge next, using similar data to find the possible origin of HIV, or to to determine the source of a viral outbreak, as in the case of avian influenza in Nigeria. Here, they examined whether multiple outbreaks in an area are due to a single introduction event or multiple ones. In any phylogenetic analysis, we make certain assumptions, and (I'm simplifying this considerably) one of those is that closely related sequences reflect a more recent common ancestor. Therefore, the strains have *evolved* via "chance and necessity", accumulating mutations along the way that allow us to estimate the time of divergence from their most recent common ancestor. Now, one could certainly say, "well, I don't accept your assumptions," or "I believe your assumption is based on the false pretense that evolutionary theory is true," but then I hope they'd provide us with a better explanation for the results we obtain. "They were just designed that way" simply doesn't cut it; it doesn't give us a framework to analyze our results in any meaningful way, and it certainly doesn't contribute to an understanding of the spread of infection.
Other molecular genetics and evolution
And guess what? We use this assumption all the time in hospital epidemiology as well. Egnor glibly brushes off the significance of evolutionary biology to the problem of antibiotic resistance, so let's take another route. Imagine there's a bacterial outbreak in the hospital where he works; let's say, Legionella. We don't even have to make it resistant to antibiotics.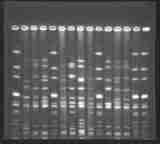 Epidemiologists will work to trace that outbreak to the source, be it a patient, a hospital worker, or an environmental source. (In the case of Legionella, a water source is often found to be contaminated). To investigate these outbreaks, molecular epidemiologists typically use a method called PFGE (pulsed-field gel electrophoresis). It works, essentially, by using a protein to chop up the DNA of the microbes and running those pieces of DNA out on a gel. The protein will cut at specific DNA signatures within the genome, and how many times it cuts (and therefore, the resulting number and size of the DNA pieces the investigator will see on the gel) is a reflection of the genetic makeup of the microbe. This is commonly referred to as its "DNA fingerprint" (see an example at the left). Again, the more similar results, the more recent a common ancestor between any two strains. Therefore, if we see the same "fingerprint" in the sickened patients and a shared exposure to a water source found to be contaminated with the bacterium, we can likely conclude that the water source is the origin of the outbreak. Evolutionary biology hasn't "co-opted" this analysis; rather, the analysis only makes sense with the assumption of common descent and subsequent divergence--aka, evolution. Egnor may claim that there's no "department of evolutionary biology" at his med school, but there sure as hell are people who use evolutionary theory right there in his hospital.
Vaccine design and use
In Egnor's initial post, he mentioned Jenner's invention of vaccines, which was carried out before Darwin was even born. And sure, this is true. Ancient peoples also performed crude brain surgeries before the dawn of modern medicine, but that doesn't mean that we haven't been informed and surgery improved using modern scientific evidence. What Egnor perhaps doesn't realize is that evolution impacts vaccination design and implementation in many different ways. The first is the design and formulation of the vaccines themselves. One common example of this is the influenza vaccine, which needs to be re-formulated every year because of the rapid evolution of that virus. Other vaccines sometimes contain only particular serotypes of the pathogen. For instance, the new HPV vaccine contains only 4 serotypes of virus: 6, 11, 16, and 18. We determine these virus types using molecular methods such as those mentioned above, but again, evolutionary theory underlies all of those results.
Additionally, especially for a vaccine that doesn't prevent infection with all types of a pathogen, we can't just throw a vaccine into the population without trying to understand how it will affect the rest of that pathogen species. For example, if we end up with a high level of herd immunity to the HPV serotypes mentioned above, does that mean other serotypes will replace them? Or even, potentially, unrelated organisms that previously occupied a similar niche, but were out-competed by the organism we're going to vaccinate for? We've seen this phenomenon (serotype replacement) with the pneumococcal vaccine already, and it needs to be considered and investigated with any vaccine of this nature.
Furthermore, we use evolutionary biology to investigate and predict not only what a vaccine may do to the ecology of a particular pathogen, but how it may affect the overall virulence of the population as well. (For instance, see this Nature article on "imperfect vaccines" and how they may contribute to the evolution of virulence--but I suppose that's just "citation chaff").
Who are the people who carry out this research? They are microbiologists, epidemiologists, molecular geneticists, pharmacologists, and physicians who are infectious disease specialists. And we all "hijack" evolutionary biology in order for our work to make sense.
------------------------------------------------------
*It should be noted, of course, that the "chance and necessity" characterization is really another of Egnor's strawmen. Sure, random mutations occur and sure, many times natural selection increases or decreases the prevalence of these mutants in the population, but sometimes these are either silent (and therefore are unlikely to be selected for or against) or simply don't register enough to be subject to selection in the current environment of the organism. However, they can still accumulate mutations, which we can measure via sequencing. Additionally, evolution in a population can occur even when "necessity" isn't involved, via a host of chance events. So I'd argue that "chance and/or necessity" would be better than just "chance and necessity" that Egnor provides. Of course, that makes it obvious that his argument is a strawman, so I suspect he wouldn't concede that point...
Image from http://www.cfsan.fda.gov/~dms/fsirp994.jpg