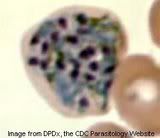 Over at The Examining Room of Dr. Charles, the good doc brings up another instance of quackery from an unexpected source: Dr. Henry Heimlich, originator of the Heimlich maneuver for choking. While that procedure has clearly saved many lives, Dr. Heimlich doesn't stop there--he advocates using his maneuver for drowning victims and asthmatics, neither of which have been scientifically proven (and indeed, major medical associations have spoken out against them). Dr. Charles also reveals that Heimlich also carries out other questionable research, including deliberately infecting HIV+ individuals with malaria, which he touts and a cheap and effective cure for AIDS. More after the jump....
Now, at first glance, deliberately giving someone malaria--a deadly disease in its own right--in order to cure another deadly disease sounds preposterous. And I certainly agree that it is, but let me back up a minute to explain how (I assume) Heimlich arrived at this idea (or at least, without pretending to know his mind, let me give a bit of historical background).
To start with, it certainly isn't absurd to try and use one infectious agent to fight against another. Antibiotics, of course, originated with the observation that a chemical produced by a mold was killing bacteria--microbial biowarfare. These organisms have been co-evolving for eons, and in some cases, have become pros at exploiting one anothers' weaknesses--and humans have, in turn, exploited these microbes for use in our own medicines. In addition to classic antibiotics, I've also written previously on another type of microbe-on-microbe warfare, using bacteriophage--viruses that infect bacteria--to kill their bacterial hosts. I also mentioned in that post the use of a bacterium, Legionella pneumophila, to kill *its* host, an amoebae called naegleria. So, while it may (in principle) sound crazy to infect someone with one microbe in order to halt their infection with another, there is historical precedent.
Second, more precedent. Malaria itself has been used in the past as a treatment for another infectious disease--syphilis. It was thought that the fevers malaria infection caused were high enough to kill the spirochete that causes syphilis. In the early 1900s, it was already known that quinine could treat malaria, but the mercury-based treatments used for syphilis at the time frequently caused as much harm to the patient as the bacterium did. So they could infect the syphilis patient with malaria, allow them to become ill and develop a high fever, and then treat the malaria with quinine--and ideally the patient would be cured of both infections. (Sound far-fetched? It won the Nobel prize for medicine in 1927).
Third, fevers are indeed thought to be an evolutionary adaptation to defend us against infectious disease. Many microbes can replicate only in a limited temperature range--too high or too low, and the microbes don't replicate quickly enough, allowing the body's defenses to overwhelm them. This response is conserved throughout many areas of the animal kingdom. Studies have shown that even in ectothermic animals such as lizards, those who behaviorally "give themselves a fever" by sunning and other mechanisms that result in a body temperature increase fared better when experimentally infected with bacteria than did their brethren who weren't allowed to employ such mechanisms. So fever indeed does seem like a good thing when it comes to ridding ourselves of unwanted microbial invaders.
To summarize then, we have a treatment that 1) is a variation on inter-microbial warfare that's been ongoing for probably billions of years, that 2) we've previously harnessed to supply us with life-saving chemicals such as antibiotics, that 3) has already been awarded one Nobel prize, and that 4) produces a physiological response that is generally regarded as an ancient defense against microbial pathogens. Maybe Heimlich's actually on to something with this malaria-AIDS-treatment-thing?
Unfortunately, the problem--well, one of them, anyway--is that syphilis and AIDS are very different diseases. It should be obvious, but perhaps it's not to Heimlich--just because something works against one microbe, it doesn't mean it will be effective against the next. HIV and Treponema pallidum, the bacterium that causes syphilis, aren't alike in many ways except that they both cause human disease. And unlike syphilis, HIV doesn't directly attack our heart, or our circulatory system--it damages the very system we rely on to defend ourselves against a host of pathogens. Additionally, it's already been noted in the biomedical literature just how deadly a malaria co-infection can be to an HIV+ individual (summed up, for example, in this recent review--including being at an increased risk of treatment failure. So even if the malaria treatment did work, the possibility remains that the malaria, then, couldn't be eradicated from the patient. And finally, though malarial treatment of syphilis was used for many years and thought at the time to be fairly successful, it should be noted that there were no formal clinical trials to confirm this success--so how good it really was in practice remains uncertain.
If a poor outcome due to infection of HIV+ patients with malaria is likely, how then could these studies be carried out? Well, the answer is: sneakily. (More on this in an upcoming post--my blood is still boiling and you'll see why later). As Dr. Charles dug up, however, the New York Times wrote about this in 2003, and to put it mildly, many people were not pleased that these studies were carried out in this day and age:
The University of California at Los Angeles is investigating whether two of its researchers aided experiments in China in which H.I.V. patients were deliberately injected with malaria in an effort to kill the AIDS virus.

The China research was done from 1993 to 1996 at the request of Dr. Henry J. Heimlich, now 83, the inventor of the Heimlich maneuver, which can save people who are choking.

Dr. Heimlich, who has courted controversy in several fields of medicine, argues that inducing high malarial fevers can stimulate the immune system to fight AIDS, Lyme disease and cancer. In the early 1990's, he held fund-raising parties in Hollywood, raising tens of thousands of dollars from movie stars and agents to pursue a malaria AIDS cure.

The Centers for Disease Control and Prevention opposes malarial therapy, and some medical experts have harshly criticized him for experimenting on humans in China when it was unthinkable that such a trial would have been approved in the United States.
I don't know whether other such studies are ongoing or not. It's noted here that the Heimlich Institute pulled some of their own webpages supporting or discussing malariotherapy, and invitations to speak at events have been rescinded. However, I find it hard to believe that this idea will go away, Heimlich-sponsored or not. The CDC put out a warning about this type of research back in 1993; almost a decade and a half later, here we sit, incredulous that these studies were allowed to take place. Meanwhile, I'm sure a group of people, somewhere out there, are saying how Heimlich is just being "censored" by "big pharma" because his AIDS "cure" isn't something that they can patent and make themselves a bazillion dollars.
I didn't google for that group. I just don't want to know.