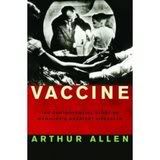 Regular readers may have seen me mention on occasion my father's rather large family. My dad is the youngest of a family of 13 children--12 of whom survived to adulthood. Before my dad was born, he lost a brother to complications from infection with chicken pox; he had a severe infection and developed a fatal secondary pneumonia at just a year old. This was back in the early 1940s, prior to the widespread use of modern antibiotics and certainly long before vaccination for chicken pox. Still, despite the availability of effective chicken pox vaccines today, people still knowingly expose their children to chicken pox-infected playmates at chicken pox parties rather than vaccinate, apparently oblivious to the fact that this "mild childhood illness" can cause severe disease, and even death.
This campaign against vaccines isn't new by any means. In fact, vehement opposition to vaccination is as old as the procedure itself, as is thoroughly documented in Arthur Allen's recent book, Vaccine. More after the jump.
"Vaccine" is a story told in three parts. Allen begins with the early history of vaccination (and variolation prior to that), discussing the sometimes sordid (but ultimately successful) tale of smallpox vaccination. While I (and many readers likely) was already familiar some of this information, Allen has done a large amount of research and unearthed many episodes in this early history that resonate still today--issues of parental choice, religious objection to vaccination, and of course, vaccine safety.
The second third of the book discusses the "golden age" of vaccination, when research increased and many deadly childhood diseases were greatly reduced by vaccination campaigns. Much attention is paid to polio, measles, and diptheria, but Allen also discusses the development of vaccines against mumps and rubella, as well as other vaccines (such as a disastrous trial for a vaccine against Streptococcus pyogenes) that were attempted but shelved. Allen provides some of the science, but the more interesting parts of this section focus on the personalities behind the news--both the scientists working on vaccinations, and the anti-vaccine campaigners working to prevent the adoption of mandatory vaccination laws.
Finally, Allen delves into the modern anti-vaccination movement, reviewing the controversy over the MMR vaccine, thimerosal, and other general ideas that frequently harken back to the early anti-vaccine campaigners (such as the idea that vaccines somehow weaken the immune system by denying the recipient exposure to the pathogenic organism, for example). And while he's certainly critical of the players (spending much of a chapter on whooping cough and the potentially deadly effects of declining vaccination rates for that organism), he doesn't paint the vaccine opponents as monsters. He tries to show their motivations for opposing vaccination, and to bring their humanity to light, even while vehemently disagreeing with the conclusions they've come to regarding vaccination. Some of the figures come across as sympathetic; some even Allen can't really redeem.
Allen acknowledges that, while he has tried to write a fair account of the history of vaccination, he does bring "personal agendas" to the book, and he supports vaccination. Many criticisms from the "antis," as he calls the anti-vaccine groups and individuals, scoff at this, and have accused Allen of being "in the pocket of big pharma" and other similar implications of impropriety and bias. However, I wonder how many of them actually took the time to read the book. Allen most certainly doesn't let scientists, the government, or the pharmaceutical industry off the hook for mistakes that have been made in the past. He readily acknowledges that the vaccination field is often a messy one: that sometimes scientists and advocates have been guilty of pushing or over-reaching, and that vaccines have, indeed, caused harm (and continue to do so).
All in all, Vaccine is a well-documented and very readable history of, as it's subtitled, "medicine's greatest lifesaver." My biggest issue with the book is that the flow is somewhat stilted--the first two parts of the book go together well, but the final part doesn't mesh quite as well, and Allen leaves it up to readers to connect a lot of dots in some cases between the early anti-vaccine movements and the modern ones. The information is all there, it just could have been drawn together a bit more, I think. However, that's mostly a nitpick of an otherwise nicely written and well-documented book on this controversial topic.