Welcome to this month's edition of Pediatric Grand Rounds! Sit back with a cup of mulled cider and enjoy the best of the past month:
Revere at Effect Measure tells the tale of Streptococcus pneumoniae serotype 19A--a serotype that's not included in the current vaccine, but has increasingly found as a cause of ear aches in children.
Of course, in addition to ear infection, 'tis the season for influenza. As such, it's timely that Highlight Health, Walter emphasizes the importance of influenza vaccination.
My own addition to this month's carnival touches on similar themes: how kids' continued omission from pandemic influenza planning, an increase in exemptions from routine childhood vaccinations, and more community outbreaks of methicillin-resistant Staphylococcus aureus (MRSA) may be creating a new "perfect storm" of infectious diseases.
Meanwhile, Mike elaborates on recent news suggesting that MRSA causes even more yearly deaths in the U.S. than AIDS.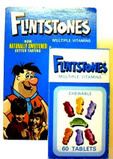 Christian at Med Journal Watch discusses new research suggesting that of vitamin supplements in kids are often overused--and that most of the kids who are taking them are already fairly healthy anyway.
At Parenting Solved, Bryan takes a look at gastric reflux in children--a new epidemic?
On the same theme of potential overuse of medicine in kids, Abel at Terra Sigillata covers the recent childrens' cold medicine controversy. What do the numbers really mean, and was the FDA ruling justified?
Perhaps instead of pharmaceuticals, try acupuncture? Dr. Ben reviews a recent study on the procedure.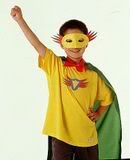 Finally, on the lighter side, Zoo Knudsen sends along a report about a new advertising strategy employed by infant formula companies, and ERV lists another benefit of immunization: superpowers!
No host is penned in for next month yet, so keep an eye on the schedule for updates...
Images from http://tarapants.com/wp-content/uploads/2007/04/sick-child.jpg, http://theimaginaryworld.com/pix424.jpg, http://www.dkimages.com/discover/previews/930/55066730.JPG