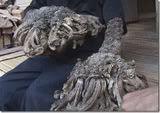 It still amazes me sometimes what viruses are capable of doing. I've written a number of times about one virus in particular, the human papilloma virus (HPV). This is the virus implicated in cervical cancer, and it also plays a role in head and neck cancers. There are a number of different strains of HPV--some of them are oncogenic (cancer-causing), while others cause more benign infections, such as warts.
A related virus in rabbits also causes a type of warts, which can replicate out of control and form horny growths (indeed, this is the likely origin of the jackalope myth). Humans are usually able to keep these growths under control, and warts, while annoying, typically don't have major effects on one's quality of living. However, like rabbits, sometimes these infections can get out of control, as in the recently reported case of Dede, an Indonesian fisherman dubbed the "tree man" due to his root-like warty growths (video at the link). More after the jump...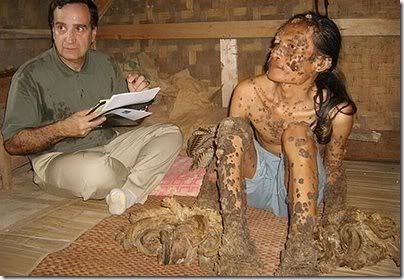 The fisherman, Dede, has been suffering from a worsening of this condition for the past 20 years, starting off as mere warts but progressing to horny projections, particularly on his hands and feet. Local doctors didn't have answers for him, but U of Maryland dermatologist Anthony Gaspari recently traveled to Indonesia to investigate:
But now an American dermatology expert who flew out to Dede's home village south of the capital Jakarta claims to have identified his condition, and proposed a treatment that could transform his life.

After testing samples of the lesions and Dede's blood, Dr Anthony Gaspari of the University of Maryland concluded that his affliction is caused by the Human Papilloma Virus (HPV), a fairly common infection that usually causes small warts to develop on sufferers.

Dede's problem is that he has a rare genetic fault that impedes his immune system, meaning his body is unable to contain the warts.

The virus was therefore able to "hijack the cellular machinery of his skin cells", ordering them to produce massive amounts of the substance that caused the tree-like growths known as "cutaneous horns" on his hands and feet.
They're currently treating him with a synthetic vitamin A, which the article claimed "has been shown to arrest the growth of warts in severe cases of HPV". (I didn't see any evidence of this on a quick PubMed search, but either I'm using the wrong key words or they've not been published).
Turning rabbits into jackalopes, humans into trees; causing cancer and destroying our immune system; such an incredible repertoire for a mere package of nucleic acids that can't even replicate on its own.
Images from http://www.telegraph.co.uk/news/main.jhtml?xml=/news/2007/11/12/wtree11…