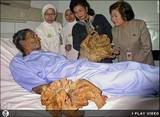 Revere has been covering the situation in Indonesia regarding sharing of influenza viruses with the US and other countries. For those of you who don't follow these issues, Indonesia has been the country hardest hit thus far by H5N1 (113 cases and 91 deaths as of 11/12/07). However, while one might think they would welcome outside help with diagnostics and strain typing, they've been very reluctant to share their viruses. Revere explains:
But Indonesia still refuses to share its human H5N1 isolates, contending they get nothing tangible from an arrangement which is likely to lead to vaccines they won't be able to afford. Under the current system, which allows intellectual property rights to cover vaccines developed from WHO supplied seed strains to Big Pharma, they are probably right. Their position is a grim example of how the crazy patenting system can come back to bite us.
This concern reaches beyond H5N1, and intersects with Dede's (the "Tree man") plight to obtain a diagnosis and treatment for his weird condition. Turns out the Indonesian health minister is not happy about Dede's samples being removed from the country; more after the jump.
Indonesia's health minister, Siti Fadilah Supari, lambasted the US doctor currently treating the 35-year-old man, who has the rare affliction caused by the Human Papilloma Virus.

Mrs Supari is angry that Dr Anthony Gaspari has taken blood and tissue samples out of the country to the United States in a bid to diagnose the illness. She claims such samples could be used in the future to make vaccines that the poor could not afford.
Understandably, Dr. Gaspari is upset right back:
"We did take samples, and the reason we did was to render a diagnosis. We did it for humanitarian reasons, to help the patient," Dr Gaspari said, stressing his willingness to put in writing that the samples were not for commercial use.
This article went out over the ProMed service, and there it was noted that it's rather unlikely that this particular papilloma virus and the research surrounding it would come to some kind of commercial use, and with Dr. Gaspari expressing willingness to forgo any commercial use of the samples, it seems this is pretty much dead in the water. It does, however, highlight the difficulties when dealing with different countries and cultures--it's unfortunate that Dr. Gaspari didn't seek approval first (however, would he have received it, and would Dede have been diagnosed if this approval was denied?), and it's also unfortunate, if somewhat understandable, that Mrs. Supari has made such an issue of this, given the successful diagnosis of Dede's condition.
Still, as Revere reports, there seems to be progress in sharing influenza viruses; perhaps this will open the door to more open and less difficult collaborations between countries and researchers over sensitive topics such as these.
Image from http://www.telegraph.co.uk/news/main.jhtml?xml=/news/2007/11/26/wtree12…