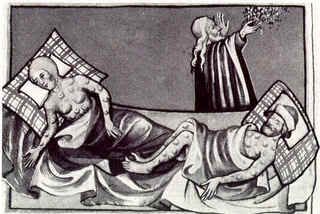 In parts one and two of the "What caused the Black Plague?" series, I discussed objections that had been raised to the conclusion that the bacterium Yersinia pestis was the cause of this pandemic, and the weaknesses with those criticisms. In today's installation, I'll discuss actual molecular evidence that Y. pestis indeed caused this--and does this research shut the door on alternative hypotheses? More after the jump...
Much of the evidence for or against hypotheses supporting any pathogen as a cause of an ancient disease are based on symptoms and historical records. While we can accumulate historical evidence until the cows come home, this evidence alone can only go so far without isolation of an actual microbe to confirm it.
While this is exceedingly difficult (if not impossible) for historical pathogens, one thing we can do is detect the microbe using other methods: such as DNA analysis. This is the basis of a burgeoning field of investigation called paleomicrobiology--the study of ancient pathogens using molecular methods. I wrote about one example using this type of detection previously, describing research looking to discover the cause of the Plague of Athens. Several other papers have been published using similar methods to investigate corpses which likely died of plague.
How do they analyze pathogen DNA from corpses which are hundreds, or thousands, of years old? Much or all of the soft tissue will be gone, with only skeletal remains--which includes the teeth. When looking for a pathogen that's gone through the bloodstream, we can take advantage of one vascularized area that's been protected from contamination: dental pulp.
A 1998 paper led by two of the biggest names in this field, Michael Drancourt and Didier Raoult, initially looked into this area using corpses suspected to have died from plague in the 16th and 18th centuries. They extracted DNA from teeth from these corpses and performed a polymerase chain reaction (PCR) analysis on them specific for Y. pestis. They ended up with positive results from half of the teeth (versus zero of the negative controls), but colleagues were still skeptical.
A huge potential problem with ancient DNA analysis is the possibility of contamination with modern DNA. Since PCR is such a sensitive procedure, it takes only a miniscule amount of DNA to end up with a positive reaction. Therefore, in their next paper, in which they extracted teeth from French corpses estimated to be from the 14th century, they used a technique they called "suicide PCR." Using this method, each primer set was used only one time in an effort to minimize contamination. They also didn't use any positive controls as well--again to prevent contamination with modern Y. pestis DNA. In this paper, they found Y. pestis DNA in all of the victims and again, none of the control teeth.
Since then, other investigators have taken a similar approach to investigate plague in ancient corpses. Again using the suicide PCR method, Weismann and Grupe detected Y. pestis DNA in 6th century corpses (thought to be victims of the Plague of Justinian, also thought to be caused by Y. pestis). Drancourt and Raoult have also carried out additional investigations in this area, looking at the strain of Y. pestis that caused both the plague of Justinian and the Black Death Though their results were controversial, they have since applied another analysis method to these samples, and determined that all plague outbreaks were caused by the Orientalis strain of Y. pestis. In a separate but related study, they've determined that, in addition to fleas, the human body louse can act as a vector of Y. pestis in an experimental animal model--which could answer some of the objections Duncan and Scott had regarding the presence of fleas or rats in Europe.
While this line of research seems to pretty much seal up Y. pestis as the cause of the Black Death (and other plague pandemics), there still are criticisms. Another group, for example, failed to find Y. pestis DNA in plague corpses. Drancourt and Raoult argue, however, that the other group's extraction of pulp from teeth was inadequate. Additionally, negative results are difficult to interpret. It could be that they're truly negative; that, as argued, their extraction protocol was poor; that their PCR didn't work for a variety of reasons, etc. Additionally, Drancourt and Raoult's extraction and suicide PCR protocol was largely validated with the independent positive results by Weichmann and Grupe, and have invited independent validation of their positive results by outside labs. Additionally, they've recently published a new method for dental pulp extraction from teeth, which will even further reduce the potential for modern contamination.
I asked earlier if this molecular research shuts the door on other hypotheses, such as that put forth by Duncan and Scott. It should be noted that, while the research by Drancourt and Raoult (and others) has shown that they can find Y. pestis DNA in corpses that are presumed to have died of plague, only a relative handful of these corpses have actually been tested (especially compared to the scope of the pandemic). Most of these have been found in France, and much of the rest of Europe hasn't really been investigated using these methods. Additionally, it's difficult in many cases to definitively identify a "plague pit," due to the chaos at the time. It's typically assumed that any mass graves that date to the approximate time of a known plague outbreak will be a plague grave, but the molecular data are only as good as that assumption.
For those reasons, there likely will remain some doubt about the causative agent of historic plague outbreaks for awhile yet. However, I think it's been pretty well established, using both historical epidemiology as well as paleomicrobiological methods, that Y. pestis was the cause of the Black Death and other plague outbreaks that occurred both before and after the mid 14th century. This doesn't rule out the occasional misdiagnosis, or localized outbreak caused by a different pathogen, but the bulk of the evidence points to Y. pestis as the culprit.
Of course, while Y. pestis isn't the scourge it once was, it's still with us, and still causing outbreaks; more on contemporary Y. pestis infections next week.
References and further reading
Drancourt and Raoult. 2005. Palaeomicrobiology: current issues and perspectives. Nat. Rev. Microbiol. 3:23-35. Link.
Drancourt et al. 2004. Genotyping, Orientalis-like Yersinia pestis, and Plague Pandemics. EID. 10:1585-92. Link.
Drancourt et al. 2007. Yersinia pestis Orientalis in remains of ancient plague patients.. Link.
Gilbert et al. 2004. Absence of Yersinia pestis-specific DNA in human teeth from five European excavations of putative plague victims. Microbiology. 150:341-354. Link.
Houhamdi et al.. 2006. Experimental model to evaluate the human body louse as a vector of plague. JID. 194:1589-96 Link.
Raoult et al. 1998. Detection of 400-year-old Yersinia pestis DNA in human dental pulp: An approach to the diagnosis of ancient septicemia. Link.
Raoult et al. 2000. Molecular identification by "suicide PCR" of Yersinia pestis as the agent of medieval black death.. PNAS. 97:12800-3. Link.
Tran-Hung et al. 2007. A New Method to Extract Dental Pulp DNA: Application to Universal Detection of Bacteria. PLoS ONE 2: e1062. Link.
Weichmann and Grupe. 2005. Detection of Yersinia pestis DNA in two early medieval skeletal finds from Aschheim (Upper Bavaria, 6th century A.D.). Am J Physical Anthropol. 126:48-55. Link.
Image from http://upload.wikimedia.org/wikipedia/commons/b/b8/Black_Death.jpg