True to my red-neck/gamer nature, I too think that Mountain Dew is the best soda pop ever made. Though I am a fan of Classic Green Mountain Dew, I also love Blue Mountain Dew (IT TASTES LIKE BLUE!!!), and Red Mountain Dew kicks fucking ass.
These are my abs: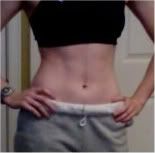 If you want to bitch about the new Pepsi blog before theyve even posted anything, you should probably do it somewhere else.
Edit-- I forgot Pepsi made Gatorade. Gatorade 03 is mind blowing. A PROTEIN DRINK that tastes like (thick) GATORADE. Amazing. Its hard to find, though.
Edit #2-- Childhood friend just reminded me about a cocktail we named after my hometown that includes Mountain Dew. Mountain Dew + raspberry vodka + peach schnapps. "Its refreshing!" ROFL!!!