There's a fair amount of evidence that spatial reasoning abilities and spatial attention are an important constituent of secondary math skills (basically everything after basic algebra)(1), and it stands to reason that secondary math skills are an important determinant of success in math-heavy careers. There's also a pretty large body of evidence that, on average, females perform worse than males on spatial reasoning and spatial attention tasks (e.g., the classic mental rotation task), and this difference is often taken to be one of the major factors in sex differences in math ability(2). It's almost certainly the case that there's an innate component to spatial reasoning abilities, but it's not clear how much, and in what way, environmental factors influence spatial reasoning abilities (and therefore indirectly, math ability).
If there are in fact some observable environmental variables that effect of spatial reasoning ability, then discovering them could help bridge the math-ability gap between males and females, particularly if exposure to those variables differs between males and females. This could, in turn, help provide long-term cultural and educational solutions to the gender gap in math-heavy fields.
All of that provided the motivation for a study by Feng et al.(3), published in October's issue of Psychological Science. To look at possible environmental influences on spatial reasoning, and spatial attention in particular, they picked a common spatial reasoning task that shows large gender differences in exposure: first person shooter video games. Previous research has shown that females are much less likely to play first person shooters than males, and that people who do play first person shooters tend to have greater spatial reasoning abilities than those who don't(4). However, since previous research hadn't looked at the causal role of playing video games, it could just be that people with better spatial reasoning abilities choose to play first person shooters more often.
In their first study, Feng et al. replicated the previous findings by having male and female participants take part in a uniform field of view task. This task involves first presenting a spatial array like this one (from Feng et al. Fig 1a, p. 851):
The stimulus is presented for a really short period of time (10-30 ms), and contains a bunch of distractors (the empty squares) and one target (the filled square). Participants have to indicate on which of the spokes the target appeared. This is a pretty widely used task, and is thought to be a good measure of spatial attention: the better you are at indicating the spoke on which the target appeared, the better your spatial attention abilities.
Feng et al. found that video game players (self-reported) performed much better than non-players (77% accuracy for players, 58% for non-players). They also found that males outperformed females on this task when they had little video game experience (64% for males, 52% females), but among players, the gender difference disappeared. That is, female participants who played video games performed as well as male participants. Perhaps also relevant to the topic of women in math, science, and engineering, they also found that science majors (72%) performed better than "arts" majors (63%).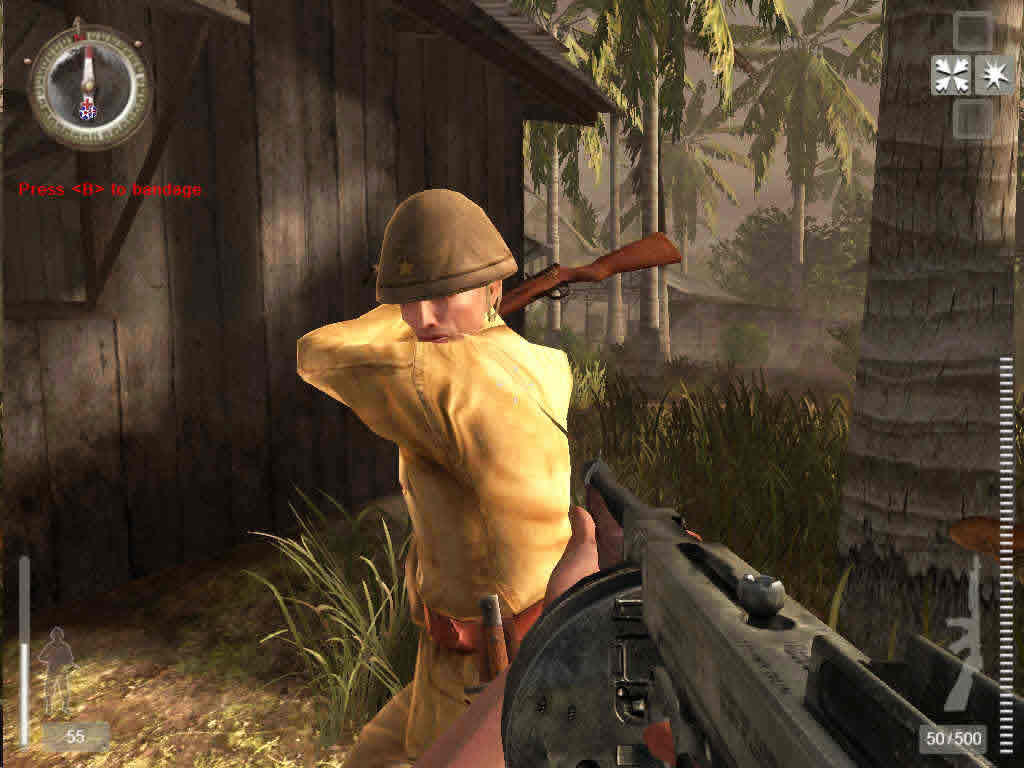 As with previous studies, this first study doesn't really tell you the causal direction: do video game players become players because they have better spatial skills, or does playing video games improve spatial skills? Feng et al.'s second study approached this question more directly. They divided 20 participants (6 male, 14 female) who reported little or no first-person shooter experience into two conditions. In one condition, the participants played a first-person shooter (Medal of Honor: Pacific Assault, which is really fun) for 10 hours over a period of up to four weeks. In the second condition, participants played Ballance, a 3D puzzle game, for the same amount of time.
Prior to playing the video games, all participants performed the uniform field of view task from the first study, and once again, males outperformed females (68% to 55%). For the participants in the Ballance condition, this difference remained after the 10 hours of playing, and five months later as well. For the participants in the Medal of Honor condition, however, the difference all but disappeared (males 78%, females 72%, which was not a statistically significant difference, though the power for this comparison has to be pretty low, so it's hard to know how significant that difference really is). After five months, both the males and females in this condition performed at their post-playing level.
What does this say? Clearly, even a small amount of experience with an attention-demanding spatial task like playing a first-person shooter can affect spatial attention abilities, and the effects can be long lasting. More research will have to be conducted, of course, with larger samples and (preferably) at different ages, but these results are suggestive. It implies that one potentially important environmental variable, video games, can have a real impact on spatial abilities, and since these in turn affect math abilities, they can also affect a person's affinity for math-related careers. Since video games that require a lot of spatial reasoning and attention tend to be designed and marketed for males, these results also suggest a major social factor in gender differences in math, and gender disparities in math careers.
---
1 Casey M.B. (1996). Understanding individual differences in spatial ability within females: A nature/nurture interactionist framework. Developmental Review, 16(3), 241-260; Geary, D.C., Saults, S.J., Liu, F., & Hoard, M.K. (2000). Sex differences in spatial cognition, computational fluency, and arithmetical reasoning. Journal of Experimental Child Psychology, 77, 337-353; Hyde, J.S., Fennema, E., & Lamon, S.J. (1990). Gender differences in mathematics performance: A meta-analysis. Psychological Bulletin, 2, 139-155; and Casey, M.B., Nuttall, R.L., Pezaris, E. (1997). Mediators of gender differences in mathematics college entrance test scores: a comparison of spatial skills with internalized beliefs and anxieties. Developmental Psychology, 33(4), 669-680.
2E.g., Casey, Nuttal, & Pezaris (1997).
3Feng, J., Spence, I., & Pratt, J. (2007). Playing an action video game reduces gender differences in spatial cognition. Psychological Science, 18(10), 850-855.
4Quaiser-Pohl, C., Geiser, C., & Lehmann, W. (2006). The relationship between computer-game preference, gender, and mental-rotation ability. Personality and Individual Differences, 40, 609-619.