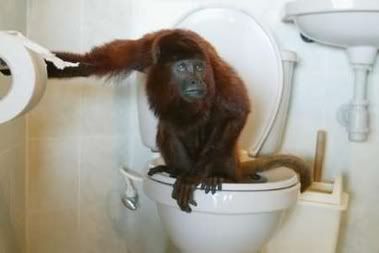 This will be my first foray into baby blogging (technically it's my second, however the first ended up being somewhat accidental). What I hope to explore through these posts will be child development through the lens of anthropology and primatology as I observe my child going through various stages. I first wanted to explore a new idea (at least new to me) that my partner and I have been working with: early potty training, also known as Natural Infant Hygiene or Elimination Communication (EC).
The concept of EC is a simple one: mammals don't like to sit in their own waste and, if allowed the opportunity, will avoid doing so. Current trends in dog training show that leaving puppies in their carrier when you have to leave them for several hours during the day will result in them waiting until you return before relieving themselves. The logic being that dogs, recent evolutionary descendants of wolves, are den animals and have an instinct not to urinate or defecate where they sleep. Having just helped raise a puppy this way I have seen its effectiveness (not once did she go while in her crate for the day, though we never left her in there for more than four or five hours). The idea, translated to humans, is that infants have an instinct not to sit in their own filth. However, unlike dogs, humans have less muscle control ability until much later in their development. Nevertheless, human infants will give cues to their caregiver in order to avoid having to soil themselves.
This is an idea that was first considered (though I should say rediscovered) when anthropologists studied the parenting styles of non-Western or indigenous populations. As should be perfectly obvious, hunter-gatherer societies don't use Pampers, so what's their option? They listen to the cues from their infants and, when the fussing sounds that they've learned to associate with the "call of nature" arrive, they hold their infants away from them and let them do their business.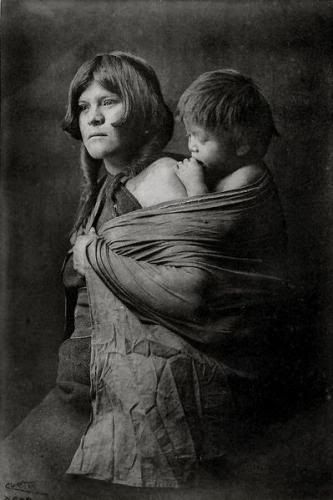 Obviously, in modern households we don't have the ability to follow the same approach (not unless we want an enormous cleaning bill) but the concept can be adapted to our different circumstances. Instead, parents can learn to communicate with their child through the use of cue sounds. To return to the mammals that most people know extremely well, in dogs there's the concept of Pavlov's bell. Ivan Petrovich Pavlov was a Russian physiologist and psychologist who won the Nobel Prize in 1904 for research on the digestive system. However today he's best known for his work on classical conditioning. Every time his experimental dogs would eat, he would ring a hand held bell. Over time the dogs learned to associate the sound of the bell with food. Later, when Pavlov would ring the bell, the dogs would immediately begin to salivate in the expectation of dinner. The conditioned sound cue would initiate a physiological response. This concept has now been adapted for use with Elimination Communication.
Here's what we did with our son, Sagan. Starting at week one, every time we noticed that he was going pee or poop we gave him a cue sound ("pss pss" for #1 and a grunting sound for #2). We wanted to first associate these sounds with the various activities. Starting at around week five we began giving him the opportunity to use a child potty. We sat him over the potty, using one of his diapers underneath him so he wouldn't feel the cold plastic, and gave him the cue sounds. We were thrilled to find that he went poop on cue. We also began noticing a specific fussing sound that he would make when he needed to go. This is a different sound from when he's hungry or tired. We're now able to identify when he needs to go and offer him an opportunity to use the potty. After about two weeks of doing this now, I estimate that he's gone poop on cue around 80% of the time (this week we've only changed a single poopy diaper). We've had a more difficult time with his urination, possibly because it's been more difficult for us to tell when he's peeing so haven't been able to associate the cue sounds with the activity. However, in the last few weeks he has been going pee in the child potty when we give him the opportunity to do so. We don't catch all, or even most, but it appears that an association is being formed.
EC is a relatively new parenting technique in the West and there haven't been any studies (that I'm aware of) looking at it's long term efficacy. Pediatricians generally recommend starting potty training much later than five weeks old. For example, Stadtler et al. (1999) in the journal Pediatrics state:
The American Academy of Pediatrics (AAP) strongly recommends that parents avoid pushing their child into toilet training, and suggests instead that the process begin only when the child is developmentally ready or shows signs of readiness. . . More specifically, at 18 months, children may show signs of readiness; at 24 months, a step-by-step approach for teaching the child his/her role in the process should be initiated; at 30 to 36 months, most children will have achieved daytime continence; and finally, at 36 to 48 months, most children will have completed nighttime training.
These are the recommendations from the AAP in tandem with the Pampers Parenting Institute Pediatric Roundtable (it's hard not to wonder the extent to which selling disposable diapers influences the advice from the Pampers Institute). In contrast to these AAP guidelines, informal reports by parents using EC suggest that a child will alert their caregiver to most, if not all, of their elimination needs by one year and could be diaper free (using the potty independently) by 18 months. These would certainly be the best case scenarios and depend on how often the parents use EC as well as the individual temperament of the child. At the very least, parents have reported that training their child with EC has made the later potty training experience much smoother. This shouldn't be surprising considering that, for most children, parents have been training them for years to sit in their own waste. Suddenly, at two years old, parents are then telling their kids that what they've been trained to do was bad. Confusion, anger and frustration are understandable reactions. EC should make this process smoother.
I will follow up on our experience with EC in subsequent posts if readers are interested, and will keep an eye out for published studies (in both anthropology and child development journals) to show in greater detail both how it's being used and what the long term results typically are. In general, based on my own experience, I will say that I have been very impressed with the technique. It makes intuitive sense to me based on my research in primatology and I've seen tangible results after a very short period. Time will tell how effective the strategy ultimately is.