(Warning--picture heavy)
I've lived in the midwest almost all of my life. So tornadoes aren't anything new, though luckily, I've never been in a dwelling that got hit by one before. In fact, I've never seen one touch down up close and in person, though I've seen a few funnel clouds in the air. And despite living here so long, I can probably count on one hand the number of times that there was a confirmed tornado close enough that I had to actually take shelter.
Last night was one of those times. Lots of fun staying in a basement for about 2 hours with a 4 and 6 year old (and a nervous dog), lemme tell ya. And since it was dark last night during the warning, we couldn't look out and tell if there was anything coming our way or not. (I really, really hate tornado warnings at night--much better during the daytime). Additionally, our power flickers if you look at it funny, so it was on and off last evening.
Still, we didn't get more than a lot of rain, wind, and hail (though nothing as extreme as the softball-sized hail they were reporting on the radio while we were downstairs). We do live in the country about 10 miles from Iowa City, so our little town wasn't hit either, as far as I could tell by driving around there on the way to drop the kids off at school. Iowa City, however, got hammered. I was driving to work this morning thinking, "huh, this isn't so bad"--and of course, as soon as I had that thought, I started to get into the damaged areas. The university cancelled classes today so there were people milling around everywhere (plus lots of news vans and helicopters). I didn't want to cause more traffic headaches, so I largely stuck to my route to work (that alone was bad enough). I did have to turn around at one point because the street I needed was blocked off, so I stopped for a moment and got out of my car to take some pics there (on Iowa Street near Lucas, for anyone who knows Iowa City). It looks like the tornado followed Route 1 through the city, almost...Burlington Street is a mess, and where Route 1 becomes Riverside Drive, it apparently destroyed a Dairy Queen, caused a lot of damage to a car dealership, and then took a right turn to hit Menard's and Wal-Mart on the south side of the city. (I didn't head out there; figured there would be too many gawkers and news vehicles already). For those of you interested, I'm putting up the pics I snapped this morning below the fold.
These first two are of the town green, which was completely covered with fallen trees and debris.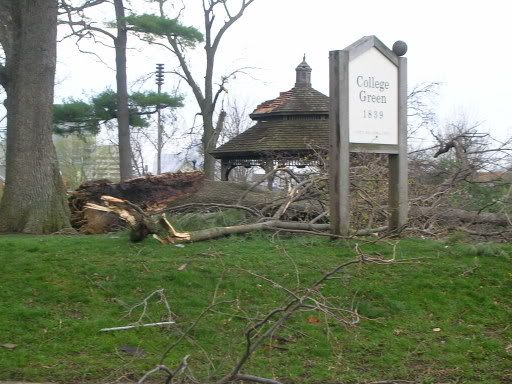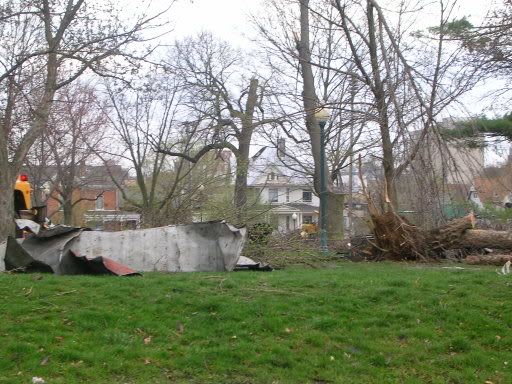 Below is what's left of St. Patrick's church, downtown:
Below is a building behind the Kum & Go (seriously, that's the name of the gas station) at the corner of Burlington and Gilbert streets: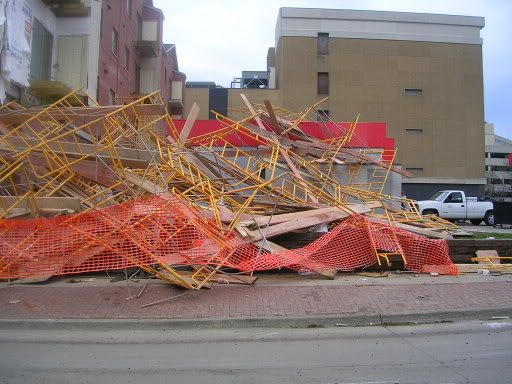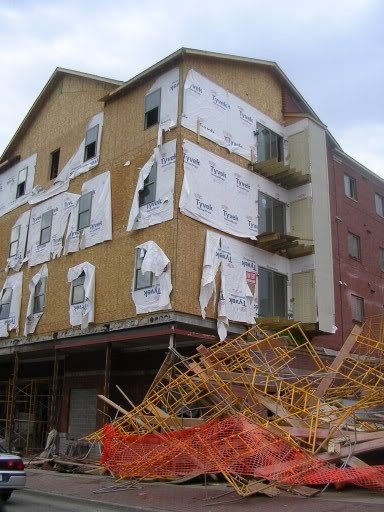 ...and businesses and apartments on the other corner of the intersection: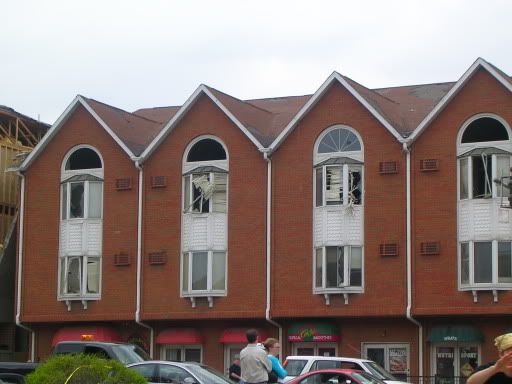 Following Burlington south...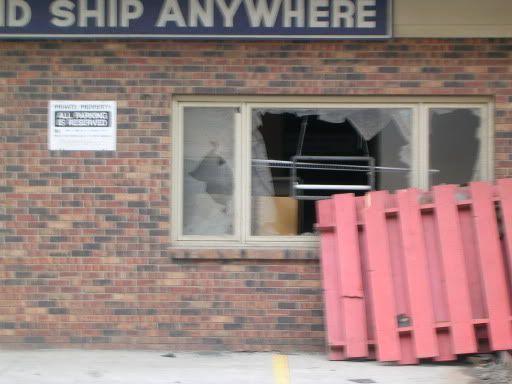 Debris was just everywhere on the downtown sidewalks...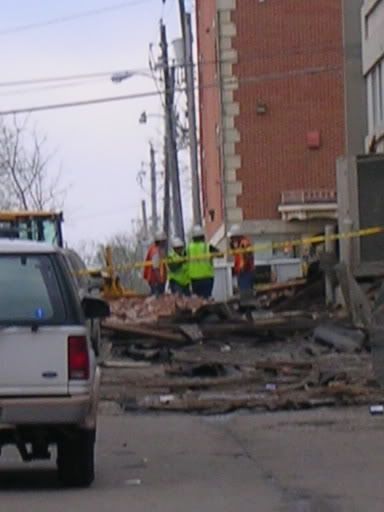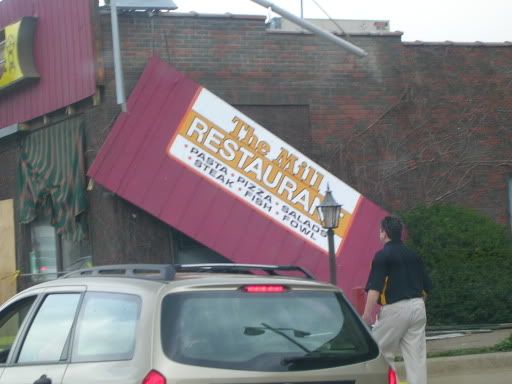 Cars with huge dents/tree branches/smashed windows were everywhere: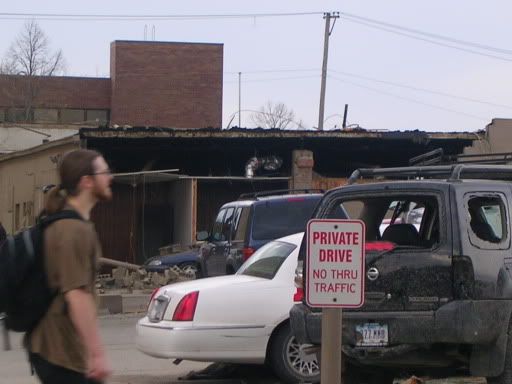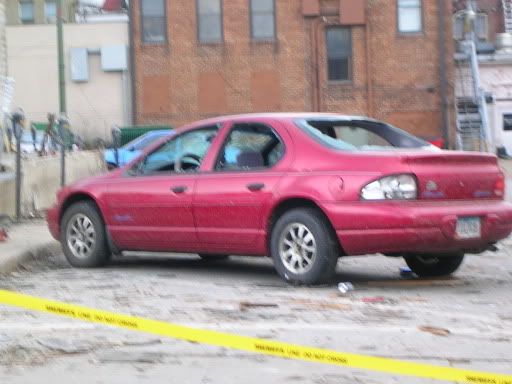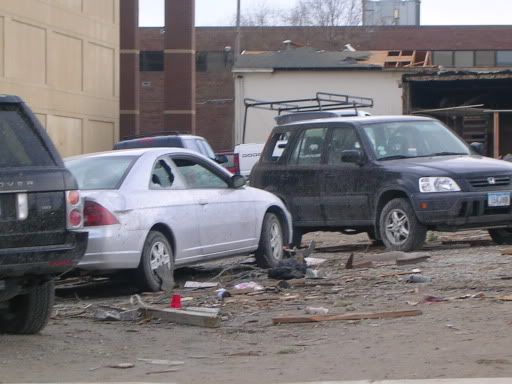 There were a lot of traffic lights out, since numerous transformers blew, power lines were down, etc. But these (at the corner of Burlington and I think Dubuque streets) were just gone--totally torn off.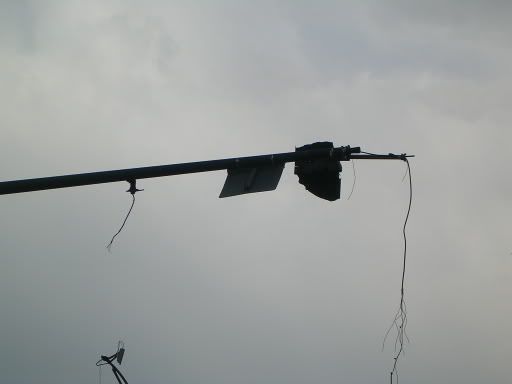 As I mentioned, Iowa Avenue near Lucas seemed to be one of the hardest-hit areas. Pics of that below: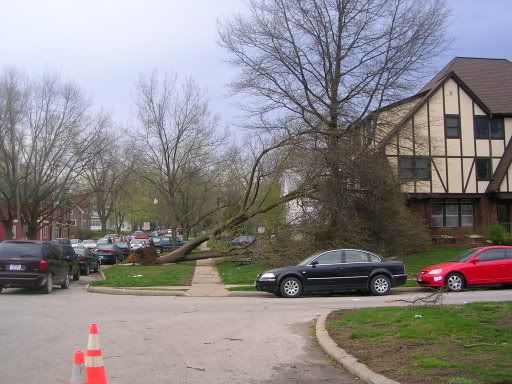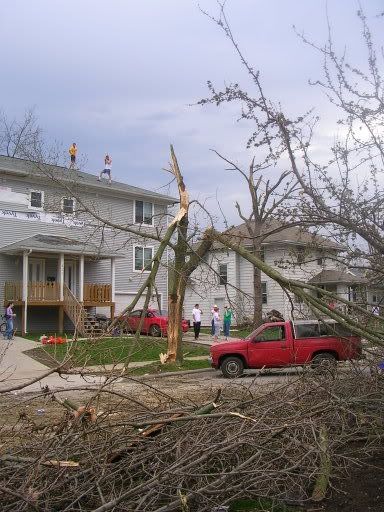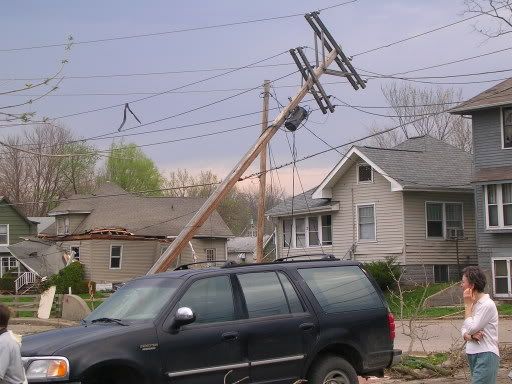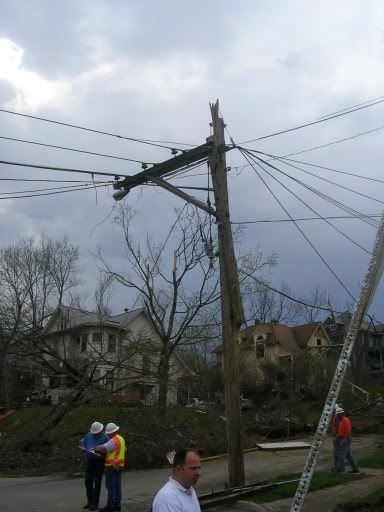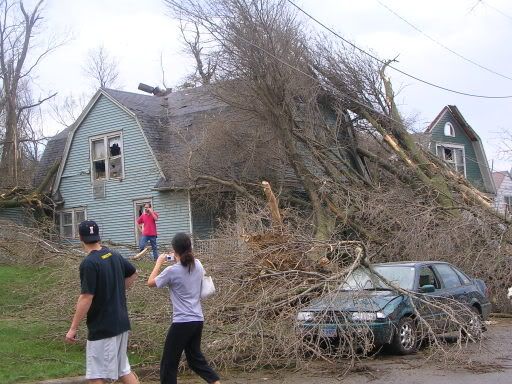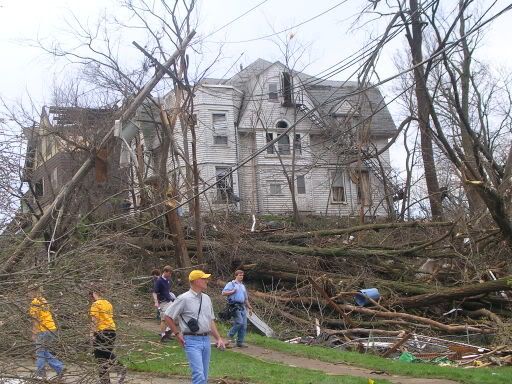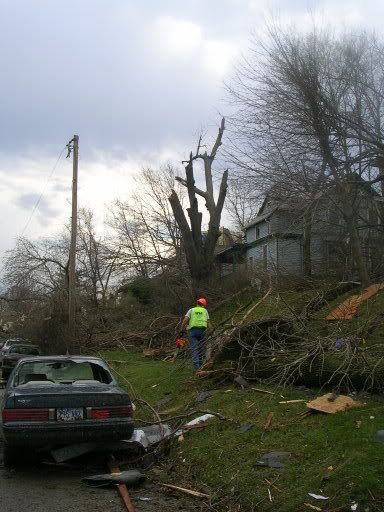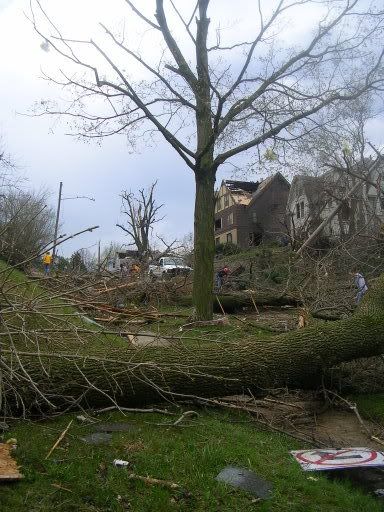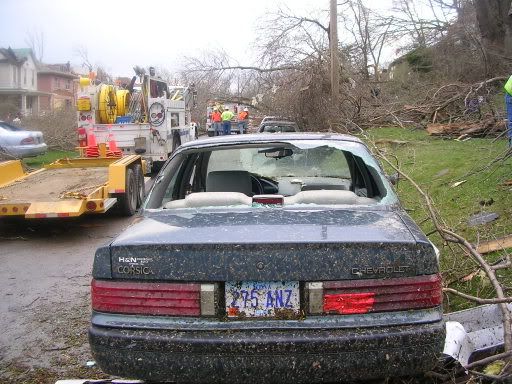 One of the downed power lines--they were everywhere. (And I assume, not hot; they were everywhere in the neighborhood):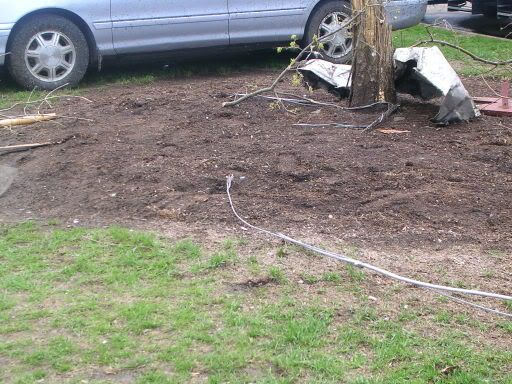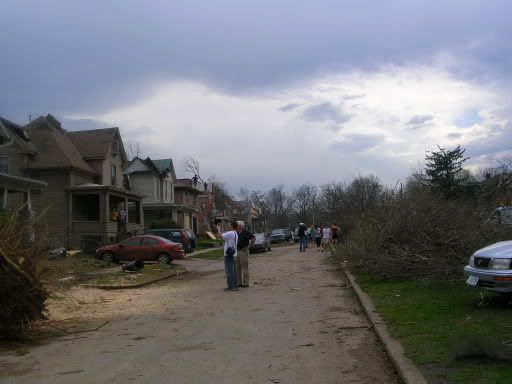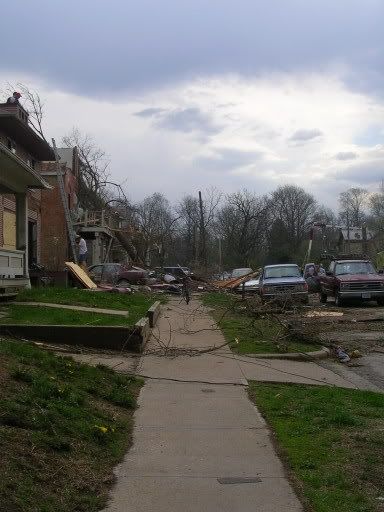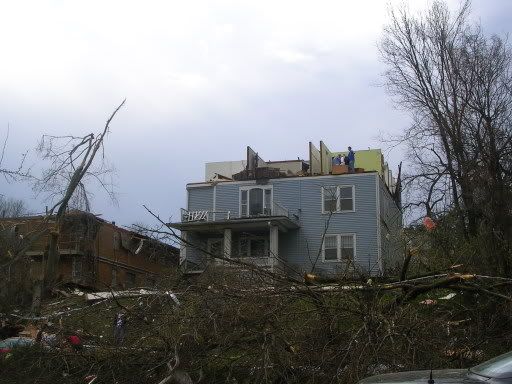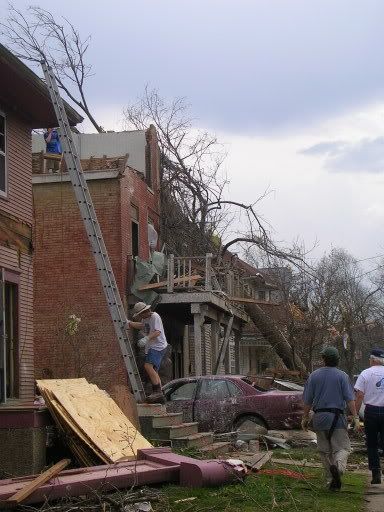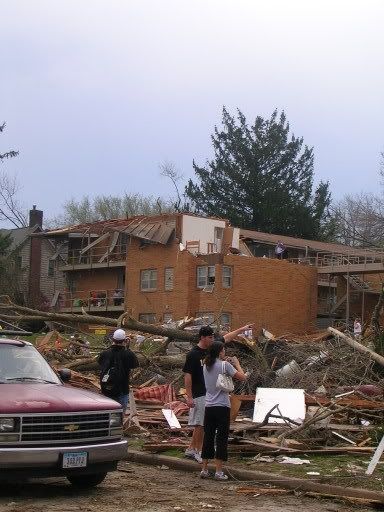 This one, I think, was looking south on Iowa. If you take that street far enough in that direction, you'll hit downtown Iowa City, and it dead-ends at another central green, where the old Capitol building and the natural history museum are: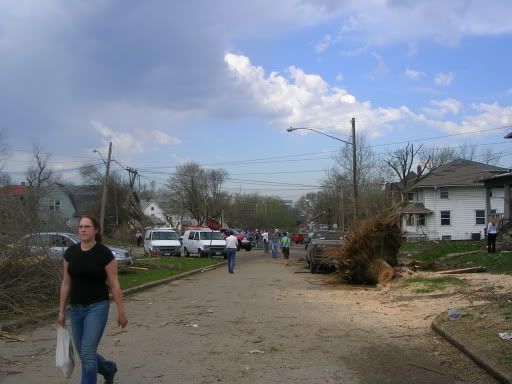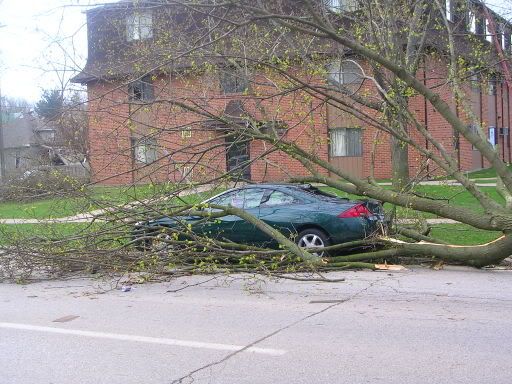 The Iowa City Press-Citizen has more photos here.