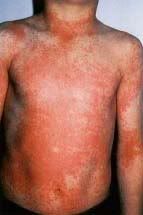 I was just lecturing yesterday on streptococci, and discussing how the diseases caused by the group A streptococcus (Streptococcus pyogenes). This is the bacterium that causes diseases as varied as "strep throat," streptococcal toxic shock syndrome, and necrotizing fasciitis (aka the "flesh-eating disease.") It's also caused historical epidemics of scarlet fever, a major scourge in many countries from the mid-1800s or so until around the turn of the century, when it started to wane for no apparent reason. (The worry over this illness was captured in Margery Williams' 1923 book, "The Velveteen Rabbit," where The Boy suffers from scarlet fever). The bacterium also has--and still does, in many developing countries--caused outbreaks of rheumatic fever, which can damage heart valves and result in rheumatic heart disease.
Yesterday, S. pyogenes was again in the news with a report of a scarlet fever outbreak in North Korea (more after the jump).
Scarlet fever has been spreading in North Korea and threatens to become a full-blown epidemic despite efforts by authorities to contain the disease, a news report said Wednesday.

The disease, which broke out in the North's northern Ryanggang Province last month, is rapidly spreading to other parts of the communist state, including the capital, Pyongyang, South Korea's Yonhap news agency reported, citing unnamed sources.

Lack of medicine coupled with poor sanitary conditions are to blame for the rapid spread of the fever in the impoverished communist country, leading to the deaths among the aged and infants, Yonhap said.

Kwon Joon-wook, a South Korean CDC official, said scarlet fever "could be easily treated with antibiotics but it could become a problem" in a country like North Korea, which suffers from a lack of medicine.
Strep are fairly contagious by close contact and especially shared utensils, drinking glasses, etc., so it does take some effort to contain it when an outbreak is already in progress. Treatment is one good way to minimize the outbreak, but if antibiotics aren't readily available, there's the potential for a lot of misery there.
Image from http://www.humanillnesses.com/original/images/hdc_0001_0003_0_img0225.j…