First day of class! As you might imagine, I'm a little scattered (well, with classes and the fact that we bought a house over the weekend. You know, just that).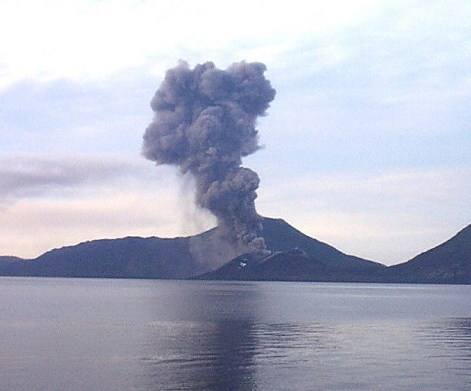 The Tavurvur Crater at Rabaul erupting in 1994.
News!
The Examiner.com (SF) has a slideshow and brief article on the current excavations of ruins buried by the Santorini/Minoan eruption that occurred ~3950 years ago. The eruption wiped out much of the island of Crete in the Aegean Sea, but whether there was anyone actually still living on the island when it happened is still a mystery. It seems that most of the Minoans left the island long before the volcano erupted - but their culture is still preserved in the ruins.
The NASA Earth Observatory has a new image of the long, wispy plume from the Tavurvur cone at Rabaul in Papua New Guinea. This is nothing new at Tavurvur, which tends to be constantly producing a steam (with minor ash) plume, but it is striking how far you can trace the plume even when the volcano is in such a "passive" mode.
About halfway down the page in this Colorado Springs Gazette article, more details about the current status of Gorely in Kamchatka is mentioned. Apparently the crater lake at the volcano is warming up, suggesting that magma is rising underneath the volcano. It has been over two decades since Gorely last erupted.

Hello.This article was really fascinating, particularly because I was investigating for thoughts on this matter last Saturday.