Regular blogging will resume next week, once I have finished digging out from the pile of work that didn't get done during my recent travels. But since Sunday Chess Problem waits for nobody, I've picked out a tasty little morsel for you.
One of my favorite motifs in chess is that of a fortress draw. This refers to a position that is drawn simply because the attacker has no possible way of making progress against the defender's set-up. Typically the term is applied to a situation in which the defender is down a substantial amount of material, so that it is surprising that the attacker cannot win. This week's problem provides a delightful example. It is an endgame study composed by G. N. Zakhodiakin in 1930. White is to play and draw.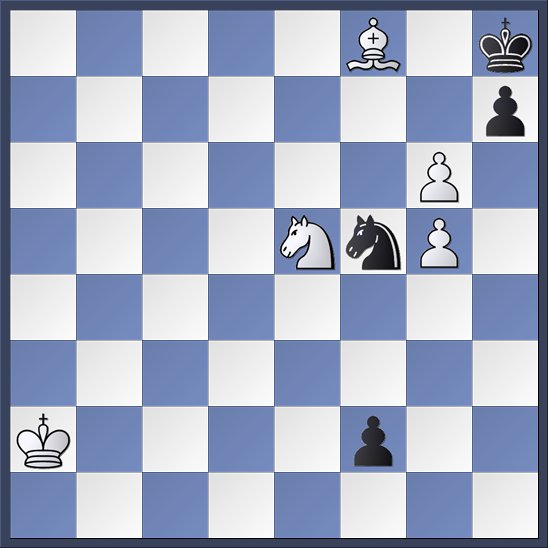 Remember that when we write down chess moves, the vertical files are labeled a--h from left to right, while the horizontal ranks are labeled 1--8 from bottom to top. So, in the position above, the white king is on a2, while the black king is on h8.
It certainly looks bleak for white. Black's f-pawn is poised to become a queen, and white seems to have no way of stopping it. If we go through our repertoire of drawing techniques, none of them seem very promising. Can white finagle a stalemate? A three-fold repetition? Does he have a tactical way of grabbing the f-pawn? No on all counts.
So, what then?
The solution begins with 1. g7+ Nxg7 2. Nf7+, bringing about this position: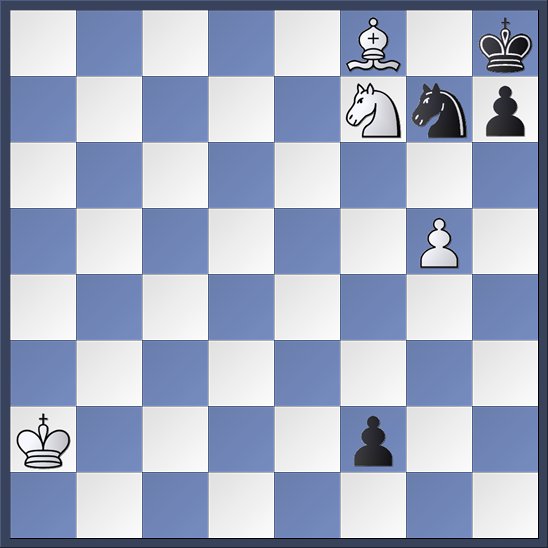 For completeness, we should note that black did not strictly have to take the g-pawn with his knight on the first move. He could have played 1. ... Kg8. But then white would have had a tactical solution after all: 2. Ng4! And now black can only protect his f-pawn by promoting with 2. ... f1Q. White now mates in two with 3. Nf6+ Kf7 4. g8Q mate.
Now, back to the action. Black must play 2. ... Kg8, but now it really appears that white is out of tricks. Both of his pieces are attacked, and he still has to worry about the f-pawn. But this is where white gets clever. He plays 3. Bc5!!: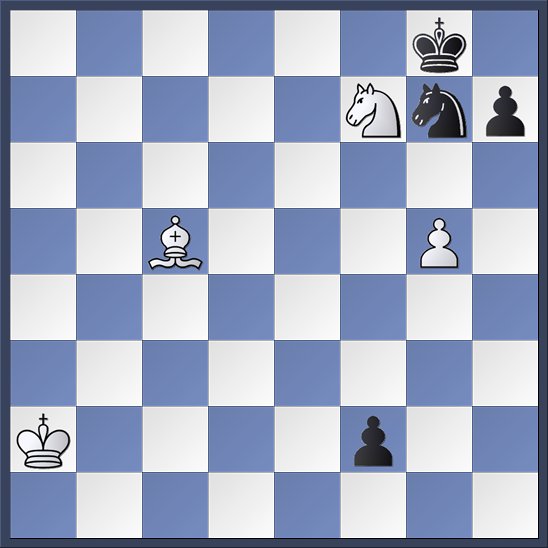 Black clearly cannot allow his f-pawn to be taken, since then the position is just an easy draw. So play continues with 3. ... f1Q, and now white may as well play the spite check with 4. Nh6+ Kg8. White now plays 5. Bd6!, bringing about this position: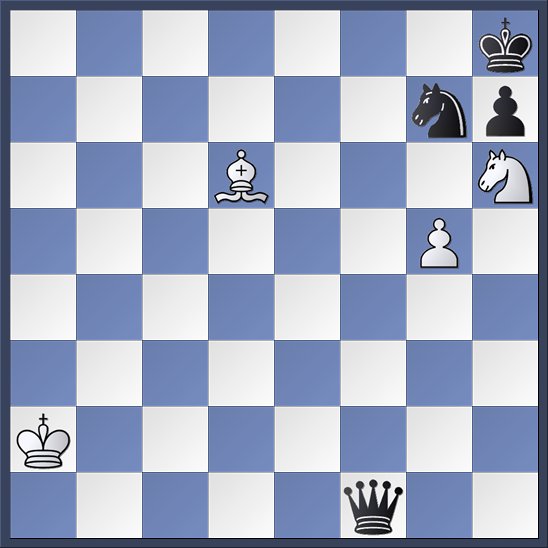 At this point you might be thinking, now what? White's down a queen, for heaven's sake, so how is he going to keep the game going? But look again! The problem's over, since this position is just a draw. It really is. White will just make waiting moves with his king, and what can black do?
Let's consider the possibilities. The white bishop can never be taken by the black queen, since then white will bash out the fork with Nf7+. The white pawn on g5 is protected by the same tactic. If black ever takes it with his queen, white forks king and queen by Nf7+.
The black knight can never move, since white will just play Be5+ and chase it back.
But what if black prepares the knight move by using his queen to guard e5? No dice! White just ignores the queen and plays Be5+ anyway. If black ever replies with Qxe5, then Nf7+ still forks the king and queen.
If this position occurred in a game, black would run out of time before finding a useful move.
I use Fritz 11 to generate the diagrams for these posts. Interestingly, Fritz does not recognize this position as a draw. Even after analyzing for several minutes it claims an easy win for black. But the moves it suggests are just nuisance checks by black that do not lead to any progress. This is one of the few weaknesses in modern chess-playing software. They have trouble with the idea of a fortress draw.
See you next week!